I Started My Locs Journey in Lockdown — and I've Never Felt More Free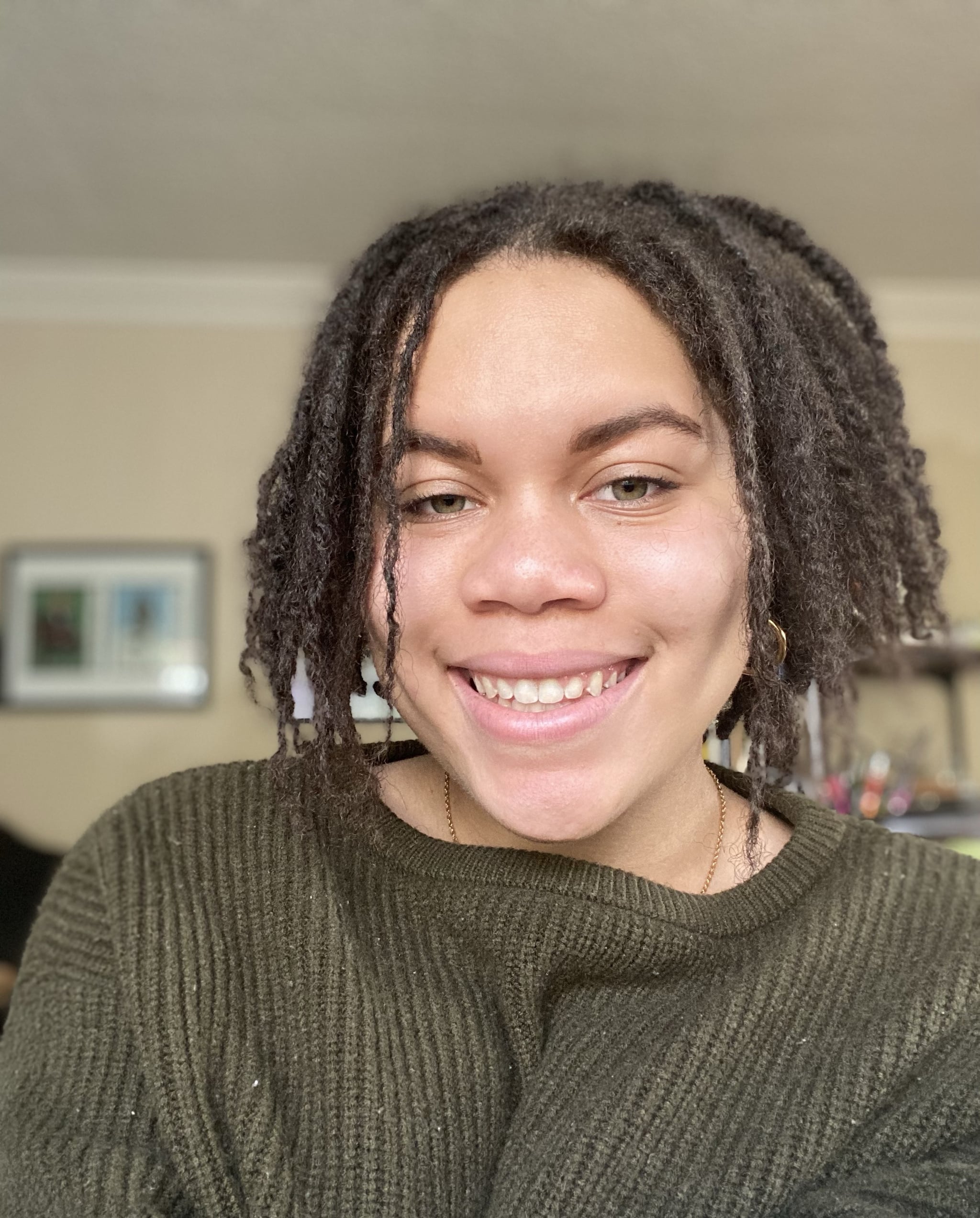 A year ago, when lockdown first hit, I started locking my hair. I'd been flirting with the idea months before the pandemic sent me back home from college, dreaming about the day my hair would look as stunning as iconic R&B sister duo Chloe and Halle Bailey's. For some reason, I kept dismissing it, but stay home orders opened up the opportunity for a drastic change.
When I was at school, the harsh, cold weather of upstate New York did not vibe with my afro. I couldn't wear beanies to keep my ears warm and the hood on my winter coat always flattened my afro puff. The solution many Black women use to combat that problem are protective styles. I didn't know how to braid my hair myself, so I would've had to find another student braiding hair as a side hustle, and even at a reduced rate that was expensive for me as a broke college student.
As salons closed their doors — and while many Black women were learning how to take care of their hair on their own for the first time in a while or braiding it themselves — I sat the feet of my mother as she twisted my hair to start my loc journey. Being at home, and not on my college campus, was a blessing because I went the rough patch of the starter phase in the comfort of my own home without the pressure of having to look "presentable" (whatever that is) each day out in public.
As a Black woman, my relationship with my hair has been incredibly important not only because caring for it and styling it makes me feel and look good, but because Black hair in particular has political and social meanings that are larger than me. In some professional spaces, Black women are still discriminated against for wearing their hair in its natural state of curls or afros, braids, and locs. So far, only seven states in the US have passed hair discrimination laws. Despite the stigma that comes with locs, I've learned to love myself more throughout my loc journey.
It's been a year of me wearing the style and I couldn't be any happier. Locking my hair has changed my hair-care routine for the better and, in a fortunate twist of fate, makes it so much easier to maintain during the pandemic as I stay home and adhere to social distancing guidelines.
I'm currently in the "budding" phase, meaning my hair has started to loc at the roots but you can still see parts of the two strand twists in sections where the hair hasn't locked yet. My routine is much simpler. I've said goodbye to wash days that actually take the whole day. Instead, I shampoo and condition in the shower every four to six weeks and when I get out, I re-twist the roots with the palms of my hands, secure with clips, and let the style set overnight. My wash day routine takes about two to three hours out of my self-care Sunday and is perfect for my preference for a low maintenance, no fuss regimen.
As a result, I spend way less money on hair products, which thankfully frees up my tight budget since college students, as dependents, were initially left out of receiving stimulus checks from the first COVID-19 relief bills. (That has since changed.) I also spend less time getting ready in the morning, which frees my day up for the activities I enjoy. Usually, I roll out of bed, apply a moisturizing cream or a mixture of castor and coconut oil to my scalp, give my locs a little shake, and go. After workouts, I just steam my scalp in the shower to freshen up a bit.
During my loc journey, I've learned to relinquish control over my hair and embrace how it's growing and changing day by day. I'm comfortable with how my hair simply exists and does its own thing, freeing me from the pursuit of perfection. I no longer have "bad hair days," because when I look at my reflection in a mirror, I can't help but feel like I'm the truest version of myself. Some people are reluctant to try locs because they love to change their hairstyle up frequently, but I can assure you that each stage offers variety of styles as your hair bonds together, shifts, and matures. I'm not there yet, but I intend to enjoy it every step of the way.
Source: Read Full Article