Ariel Winter Gets Real About Weight Loss & Anti-Depressants — 'I've Tried 10+ Meds Over
Ariel Winter is heeding a word of caution to fans who noticed a correlation between her weight loss and changing her anti-depressants.
The 21-year-old has been candid with her followers about her mental health and weight in the past, but this time got real when asked about specific medications.
On Monday, a fan commented on an Instagram video, inquiring about specific anti-depression medications:
"Hi so i read online that you changed your meds and you were able to loose the weight you gained. I started on welbutrin and stated gaining then switched to lexapro and noticed not only still weight gain but blurred vision and also on synthroid for my thyroid. May i ask what are the meds you on now that has helped. Any info would be helpful so i can talk to my doctor. Thanks"
Another commenter chimed in, who believed that Miz Winter was not currently taking any medications:
"I dont know if this will help but she has said that she is no longer on ANY medication"
The Modern Family star jumped in to clear things up:
"No no!!!! I still am. I just changed the ones I was on for a number of years. The only reason I haven't named all the meds I've changed to is because everyone's systems work differently! My psychiatrist (& therapist) both advised me that it could potentially be harmful to anyone who thinks that since it worked for me it will automatically work for them. Just because it changed the weight side effect for me doesn't mean it will for everyone."
She continued, sending out her love to followers on a similar journey:
"Personally, all of the meds I'd tried before gave me the opposite side effects than the common ones I'd been told to look out for. To give a quick example of what I mean, Wellbutrin is one of the meds I switched to. It caused weight loss for me (really just gave me a metabolism back) but caused you weight gain. Not to mention other medical factors that differ for each one of us. I've tried 10+ different meds over the course of a few years and I finally found ones that make me feel better instead of just a baseline "meh." It's an extremely difficult process to go through, but eventually you'll realize all of the trials are worth it ❤️ Stay strong ?"
As we reported, the actress recently opened up on IG during an early April Q and A sesh with her fans and followers: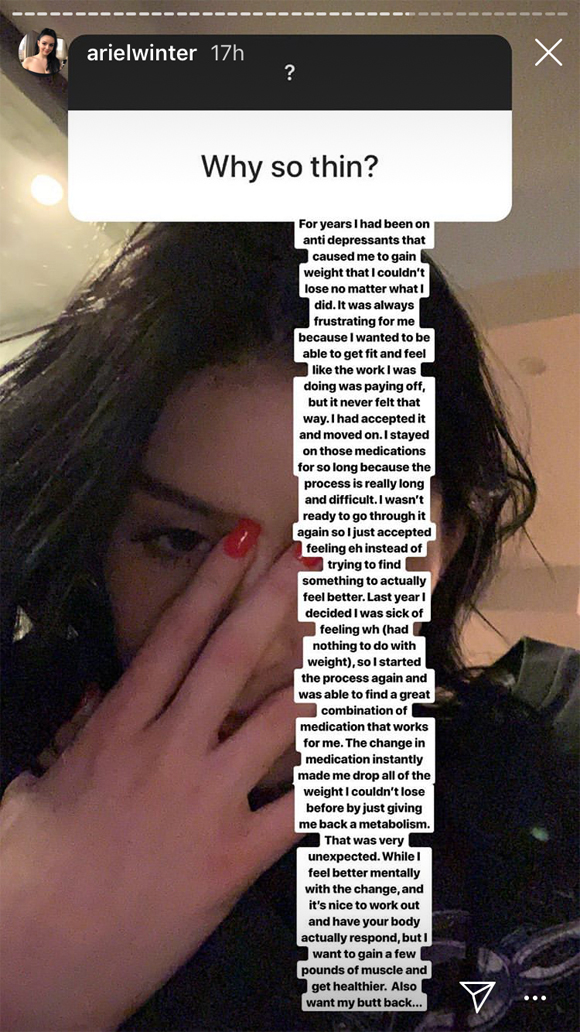 Thank you for always being so honest with us, Ariel!!
Source: Read Full Article