Beyoncé Basically Broke Every Strict Royal Rule When Meeting Meghan Markle
Can you believe it's been almost a week since the legendary meeting of Beyoncé and Meghan Markle happened? Me neither! Since then, I've made the picture of their meeting my phone lock screen, my laptop screensaver, and have a bedroom poster en route to my house as we speak. Somehow, their meeting seems to be the gift that keeps on giving, because now we have more deets on what when down before they talked at The Lion King red carpet premiere.
While paying Jimmy Kimmel Live! a visit, Billy Eichner (Timon) spilled the tea on The Lion King's cast preparation for meeting the royals, and as it turns out, there were wayyyy more royal rules than you probably thought.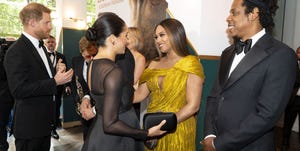 "In the days leading up to you, they email you a protocol of how you're supposed to greet Prince Harry and Meghan and they're very intense about it," Eichner told Kimmel. Apparently, The Royal Rulebook™ says that the cast was required to call Meghan and Prince Harry "Your Royal Highness" and couldn't address them until they shook their hands. Talk about strict! "We were all kind of nervous, even Beyoncé," he said.
I'm sorry, Billy—WHAT??? Considering the sheer amount of power it takes to simply exist as Beyoncé Giselle Knowles-Carter, it's literally unfathomable to think that someone in this world—nay, this UNIVERSE—could actually make her nervous. People cower in her presence. She can perform full-out cardio while flawlessly belting a tune. Her ponytails possesses magical qualities. She doesn't even sweat! And yet, somehow, Beyoncé was nervous to meet Meghan Markle.
Beautiful moment with Beyoncé, Jay Z, Meghan Markle and Prince Harry 🙌🏾 #TheLionKing pic.twitter.com/r74QGOjTA6
Crazy as this sounds, it might make sense that Beyoncé was actually nervous, because she basically broke every single royal rule that Billy mentioned. Not only did she arrive to the premiere after Meghan and Harry walked the red carpet (which was a major faux pas), but she addressed Meghan first and called her "my princess." And beyond shaking hands, Queen Bey decided to give Meghan a full-out hug. Either Bey was beside herself with nerves, or she simply didn't give a f*ck about the rules because, well, she's Beyoncé.
Beyoncé's (possible) blatant disregard for the rules reminds us of one universal truth that we'll never forget: It's Beyoncé's world and we're all just living in it.
Source: Read Full Article