Ice-T, Lil Yachty and Bette Midler Voice Disgust Over Kyle Rittenhouses Murder Acquittals
The 18-year-old, who shot two males dead and wounded another during a Black Lives Matter protest in Kenosha, Wisconsin in 2020, has been cleared on all five counts relating to the killings.
AceShowbiz –Ice-T, Michelle Williams (II), Lil Yachty, and Bette Midler are among the names sharing their disgust after teenage shooter Kyle Rittenhouse was acquitted of murder charges on Friday, November 19.
The 18-year-old American, who shot two males dead and wounded another during a Black Lives Matter protest in Kenosha, Wisconsin last year (August 20), was cleared on all five counts relating to the killings at the highly politicized trial.
Jury members decided not to hold the Illinois teen responsible for his actions, based on Wisconsin's self-defence laws, after 26 hours of deliberations and stars from the entertainment world were quick to express their disgust.
Former Destiny's Child member Michelle Williams tweeted "Not surprised," along with an angry face emoji, while rapper Lil Yachty raged, "(America's) justice system so twisted."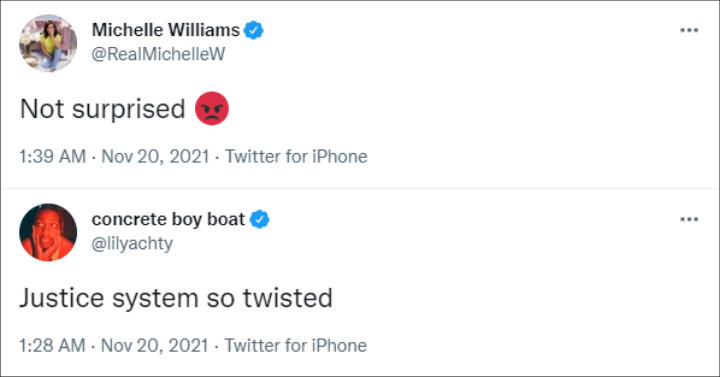 Michelle Williams and Lil Yachty reacted to Kyle Rittenhouse's murder acquittals.
Ice-T simply wrote "Wow," as he shared a tweet about the acquittal from civil rights attorney Ben Crump, who is representing several "Astroworld" victims in their lawsuit against Travis Scott (II) and concert organizers. The Roots star Questlove, meanwhile, urged his followers, "Stay Home. Stay Safe."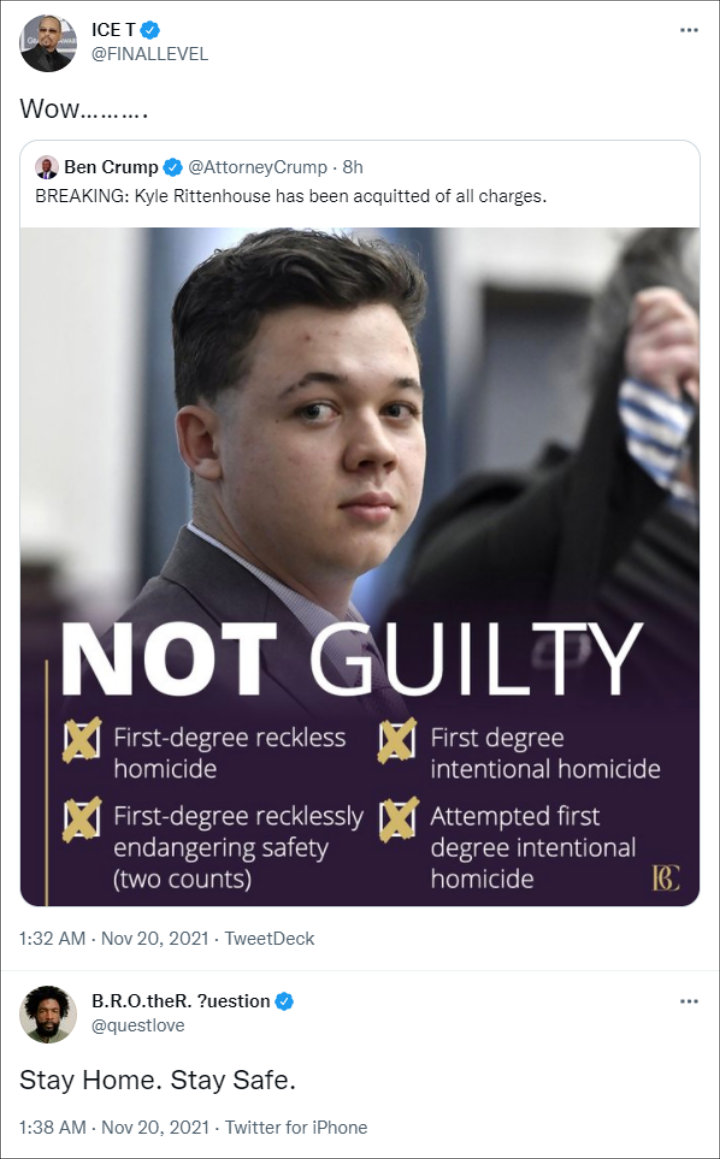 Ice-T also commented on the matter.
Singer Christina Perri penned, "what the ffffffff [sic]," followed by the tweet, "what even are laws anymore?", while Canadian singer Melanie Fiona added, "I don't understand how you blatantly murder someone (with the admitted intent to murder), and are not found guilty of murder."
"The writing was on the wall in BOLD letters about this trial from the beginning. I don't think we are surprised… but we are definitely allowed to remain appalled at how the perpetuation of injustice is progressively thriving in Amerikkka [sic]."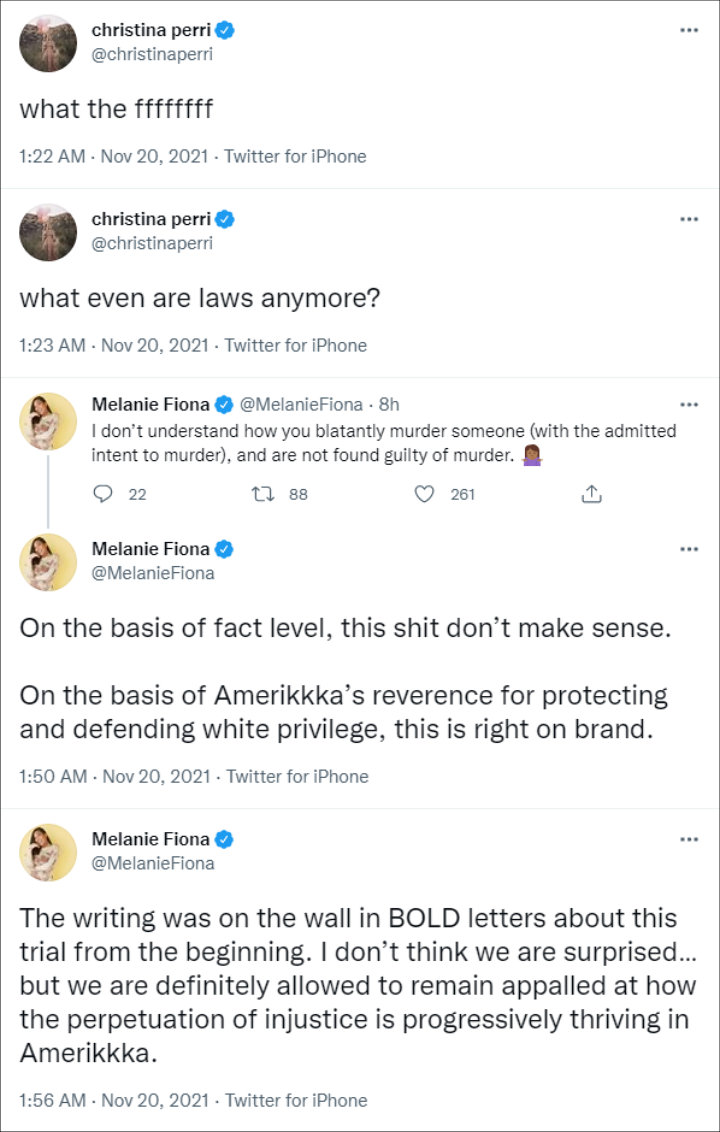 Christina Perri and Melanie Fiona blasted the decision.
Actor LeVar Burton tweeted, "Tell me again there are not two kinds justice in America!," while comedian Yvette Nicole Brown wrote, "There isn't ONE Black person in America that is surprised. Not A One! We're annoyed as hell and so very tired, but not surprised. #ThisIsAmeriKKKa [sic]".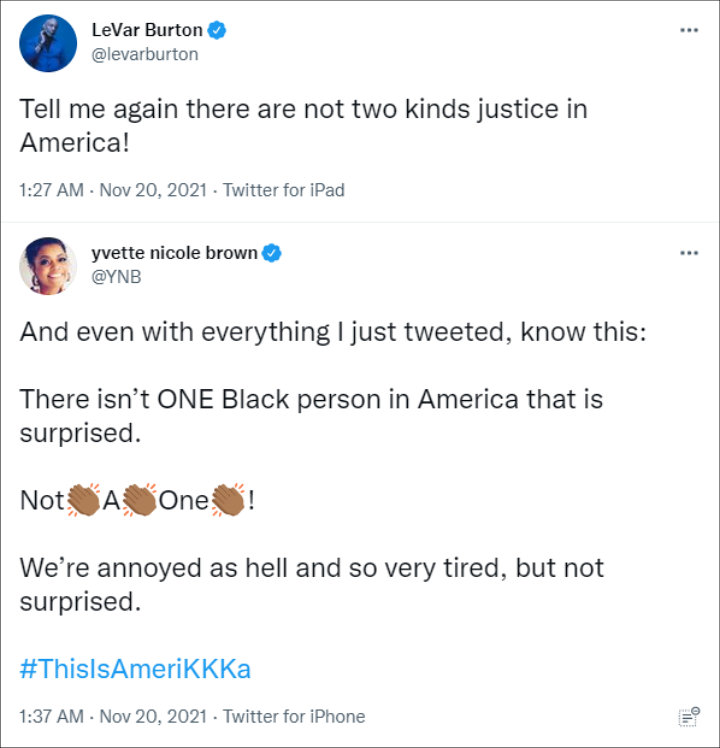 Meanwhile, Bette Midler, who has often blasted American conservatives over issues including the state of Texas' extremely restrictive abortion ban passed earlier this year (2021), shared, "#kylerittenhouse found not guilty tho we SAW HIM kill two."
"Fundamentally stupid, I predict he will go on to a big career on #Fox (conservative cable news channel) and in #RadicalRightWing circles, which counts as a plus with them. A tragic, tragic day for decent, THINKING, feeling, ethical people everywhere."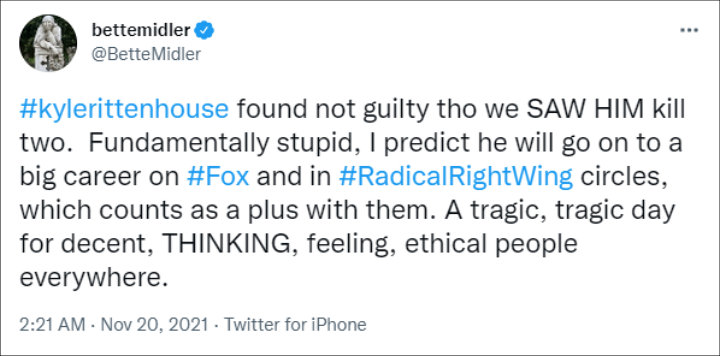 Bette Midler commented on the decision.
Ava DuVernay and Rosanna Arquette also expressed their outrage earlier on Friday.
Source: Read Full Article