J.K. Rowling Advises Activists to Stop Harassing Her Following Address Reveal on Twitter
The 'Harry Potter' author, who landed on hot water over her views on trans matters, is said to have reported the posting of her Edinburgh home address to Police Scotland officials.
AceShowbiz -J.K. Rowling has accused activists upset by her take on transgender issues of posting a photo of her address on Twitter. The "Harry Potter" author, who has been criticized for her views on trans matters, has reported the matter to Police Scotland officials, who are investigating.
Rowling claimed the image posted on Twitter showed the three activists in front of her home in Edinburgh, Scotland – and her address was clearly visible.
"I want to say a massive thank you to everybody who reported the image to @TwitterSupport," Rowling wrote on Twitter. "Your kindness and decency made all the difference to my family and me."
"I implore those people who retweeted the image with the address still visible, even if they did so in condemnation of these people's actions, to delete it." The photo has since been taken down.
She added, "They should have reflected on the fact that I've now received so many death threats I could paper the house with them, and I haven't stopped speaking out. Perhaps – and I'm just throwing this out there – the best way to prove your movement isn't a threat to women, is to stop stalking, harassing and threatening us."
Rowling became the target of trans activists last year (2020) after posting tweets, which took issue with the phrase "people who menstruate."In a blog post, the author said her interest in trans issues stemmed from being a survivor of abuse and having concerns around single-sex spaces.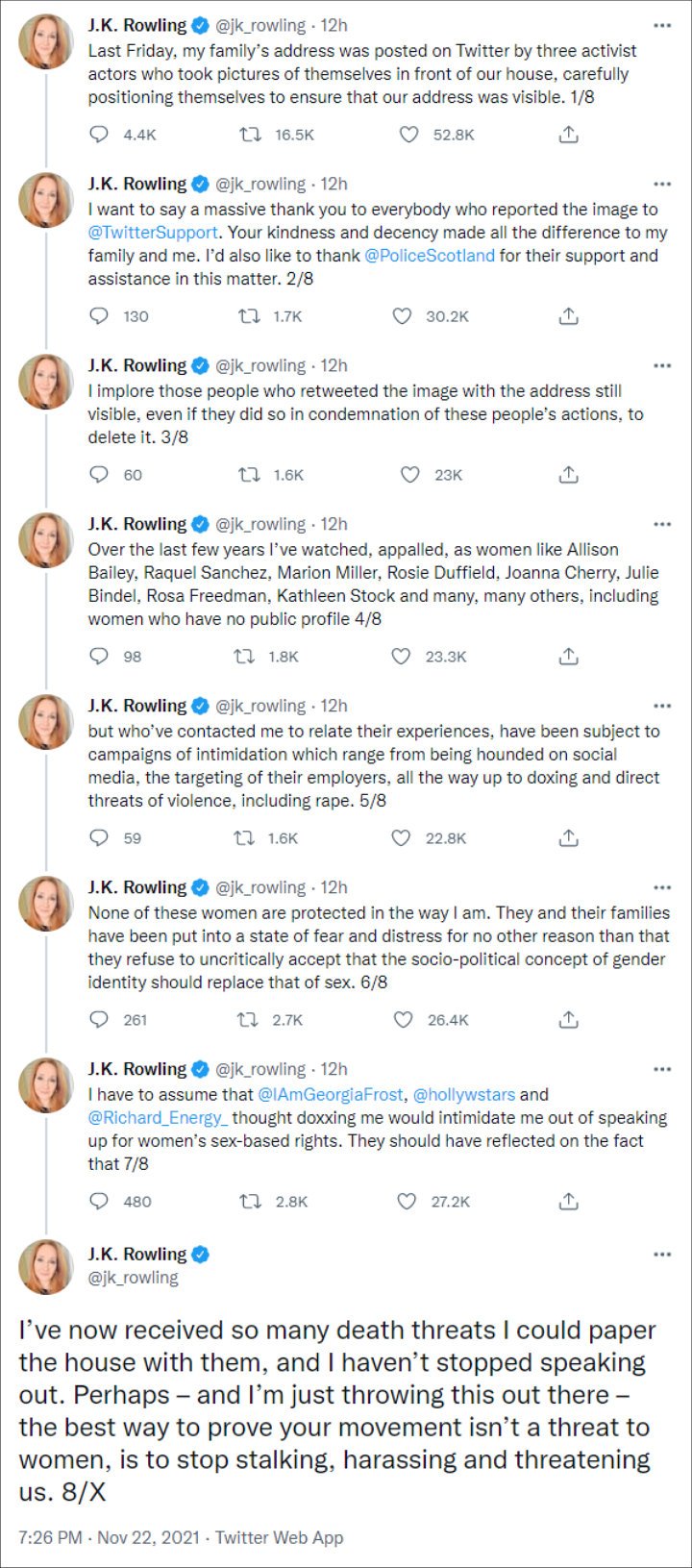 J.K. Rowling blasted activist for allegedly revealing her address.
"If you could come inside my head and understand what I feel when I read about a trans woman dying at the hands of a violent man, you'd find solidarity and kinship," she explained. "I have a visceral sense of the terror in which those trans women will have spent their last seconds on earth, because I too have known moments of blind fear when I realized that the only thing keeping me alive was the shaky self-restraint of my attacker."
Source: Read Full Article