Matt James Deletes His IG Photos After Posting a Cryptic Tweet
Matt, you good? Because it's a little hard to tell since you deleted every. single. photo. on your Instagram account. Yep, Matt James just wiped his entire Insta. Goodbye Bachelor pics. Goodbye workout pics—you will be missed. I didn't expect such a drastic move, but he's clearly going through it ever since his highly controversial relationship and ultimate split from Rachael Kirkconnell. Their reality TV show bliss was short-lived after he found out she attended an Old South plantation-themed party in college. Not the best look, Rach.
Since their breakup, Matt has been getting hate. That could explain the whole ghosting social thing. Or maybe he just wants a fresh start? However, it's necessary to point out that he didn't deactivate his account like Rachel Lindsay did after she was getting hate. He merely deleted the photos, which means he could post new photos on the app at any time.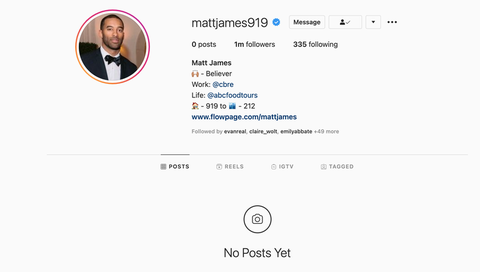 And that brings me to the second eyebrow-raising thing Matt's done on social lately. He posted a cryptic AF tweet on March 19 (the same day he deleted his pics). He tweeted, "03/21/21."
…..
That's it.
Source: Read Full Article