Tom Cruises Net Worth: The Hollywood Legend Is Worth More Than You Think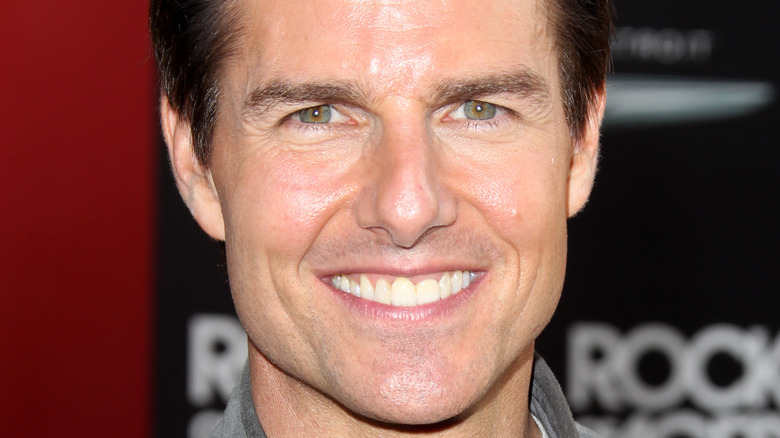 Tom Cruise is an American actor and producer who has a net worth of $600 million, according to Celebrity Net Worth. With a film career spanning 40 years and still going, he has become one of cinema's biggest names and starred in countless major Hollywood hits, including "Jerry Maguire," "Rain Man," "Top Gun," and "Edge of Tomorrow." He's even been nominated for dozens of acting awards, including Academy Awards, Golden Globes, and Screen Actors Guild Awards. He is also a prolific producer, and has enjoyed particularly great success with the ongoing "Mission: Impossible" franchise, in which he also stars.
Cruise has made headlines for his personal life as well, especially his marriages and subsequent divorces to fellow actors Nicole Kidman and Katie Holmes, and for his fervent beliefs in Scientology. He is also known for being a daredevil, performing his own death-defying stunts. Through it all he has amassed an incredible fortune, but he insists his career choice was not about getting rich. "I've never done work for money, ever," he told Vanity Fair. "Never made a decision based on a financial condition. … It is my life, it is what I do, it is what I love to do."
Tom Cruise started working at a young age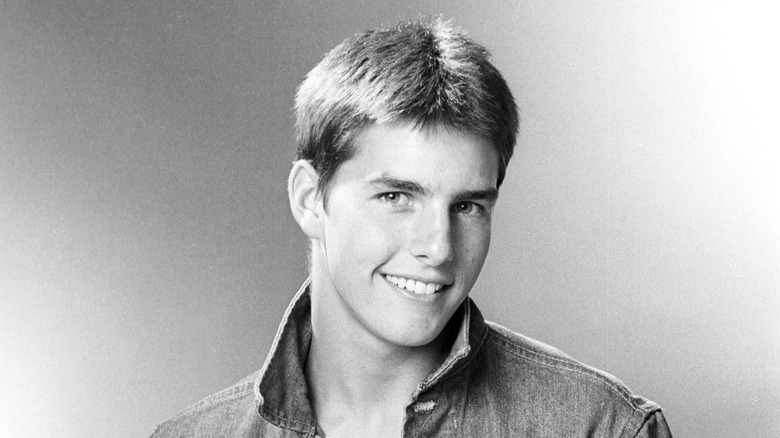 Tom Cruise's parents separated when he was just 12 years old, he told Vanity Fair, and afterward, his mother had to work multiple jobs to raise her young family. The teen made an effort to help out, finding ways to earn extra cash. And some of that money went toward a pastime that would prove to be a worthy investment. "I've wanted to make movies since I was 4 years old," Cruise told People. "I used to cut grass and had all kinds of odd jobs to give money to my family, but also to save money so I could go to the movies. You didn't have YouTube and we didn't have film school. That was my film school."
After starring in a high school production of "Guys and Dolls," he told his mother he wanted 10 years to try to make it as an actor, he recounted to Rolling Stone. She gave him her blessing, and the aspiring thespian didn't have to wait long for his informal education to pay off. He soon landed his first major role, playing military cadet David Shawn in the 1981 movie "Taps." He soon followed up with a bumper crop of four films released in 1983, including now classics "The Outsiders" and "Risky Business." At just 21, Tom Cruise had begun a stunning transformation and was well on his way to Hollywood superstardom — and was no doubt starting to make serious money.
He is one of Hollywood's biggest stars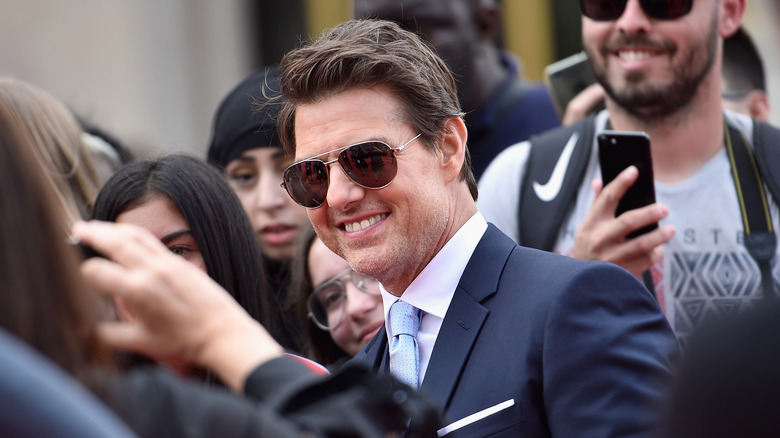 After just a few films, Tom Cruise was able to command a $1 million salary, Rolling Stone reported, and his hits continued with action flicks, such as "Top Gun" and "Days of Thunder." In 1986, he starred in — appropriately enough — "The Color of Money," and revered film critic Roger Ebert declared that "no other young actor is more bankable." Cruise also started to earn industry respect for his serious acting chops. "Born on the Fourth of July," released in 1989, earned him both an Oscar nomination and a Golden Globe win.
The result of all this box office and critical success meant that by the middle of the '90s, his asking price had reached $20 million and up, according to GQ. And Cruise was not humble about it. "I get paid because I'm worth it and they should pay me that much," he told Vanity Fair.
And what's his salary nowadays? Somewhere in the middle. Tom Cruise earned between $12 million and $14 million to star in "Top Gun: Maverick," Variety reported. It's a downgrade, sure, but considering he's earned paychecks for over 40 completed flicks in his bank account, as of publication, he's still doing just fine.
Tom Cruise has made big money as a producer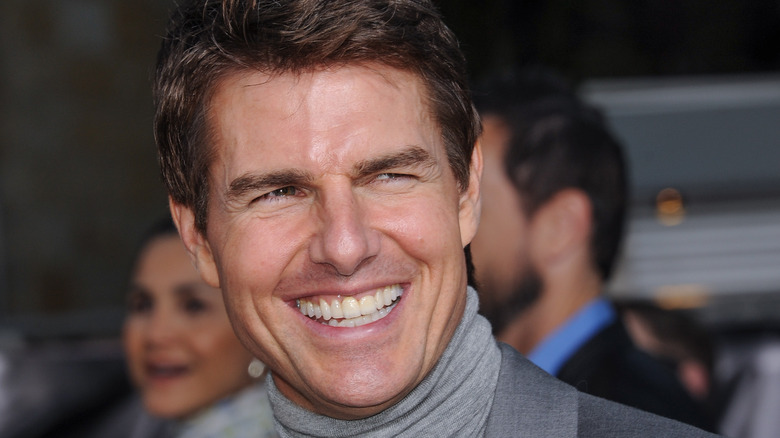 While many actors turn to directing to expand their professional portfolio, Tom Cruise took a different behind-the-scenes approach. In 1993, he launched Cruise/Wagner Productions with his former long-time agent, Paula Wagner. As the New York Daily News reported, the production company secured an exclusivity deal with Paramount Pictures, a major studio, that guaranteed them at least $17 million a year. The company made its debut with a bang in 1996: Its first film was "Mission: Impossible" (via Collider), which grossed $180 million (via Box Office Mojo). 
Things went well until 2006 — a year after the infamous Oprah couch-jumping incident — when an acrimonious split occurred and Paramount ended the partnership, as The New York Times reported. But just like a character in one of his action movies, the star didn't stay knocked down for long. Cruise/Wagner then assumed control of United Artists (via The New York Times), once the home of early Hollywood stars like Charlie Chaplin and Mary Pickford. In 2007, the secured a five-year deal worth $500 million from Merrill Lynch (via Reuters).
Over the years, Tom Cruise has earned 23 producing credits, primarily for films he's starred in. He's also backed films he hasn't appeared in, such as "Shattered Glass" and "Elizabethtown."
These Tom Cruise-led movies are part of a top money-making franchise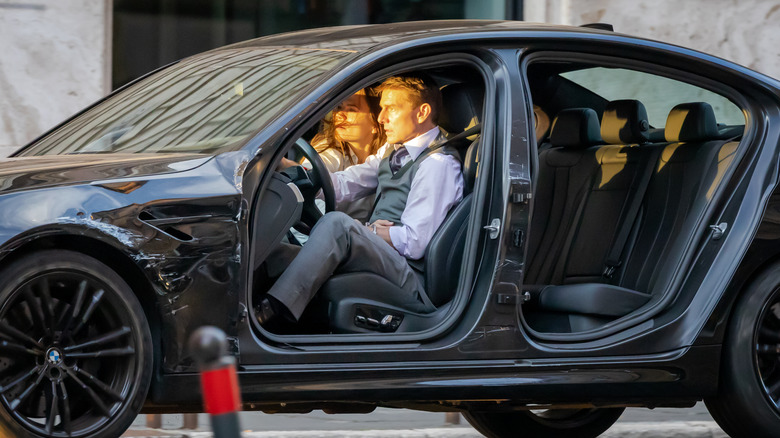 The "Mission: Impossible" series of films — which Tom Cruise stars in and produces — is one of Hollywood's most successful franchises. And with six movies already released and two currently in production, according to IMDb, it's safe to say he's made a pretty penny off them. 
According to Forbes, the "Mission: Impossible" films are considered the 11th most profitable franchise. They have a 4.35x rate of return, which means that for every dollar spent on production, the releases bring in $4.35. In total, they have earned $3.578 billion, or an average of $596.3 million each. This ranks them as better money makers than the James Bond, X-Men, Star Trek and even the DC extended universe brands. (We would have thought that was mission impossible.)
What does this mean for Cruise's bank account? Celebrity Net Worth has done the math and determined that he's made more than $389 million from the series over the decades (when adjusted for inflation). "Mission: Impossible – Fallout," the latest film in the series and Tom Cruise's highest-grossing movie ever, brought in the most at the box office. It pulled in a whopping $787.5 million and, as of June 2020, was the 94th highest grossing movie of all time. Needless to say, that bodes well for "Mission: Impossible 7," scheduled to hit theaters in 2022 (via Deadline).
Tom Cruise's divorces have cost him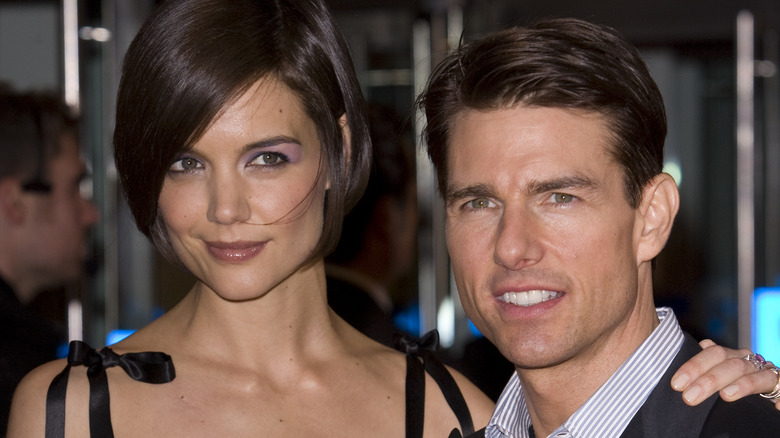 Tom Cruise has been married three times — to Mimi Rogers, Nicole Kidman, and Katie Holmes. While little is known about his first separation from Rogers, it's safe to say it had little impact on Tom Cruise's net worth, given that it occurred early on his career and the couple had no children. The same cannot be said for his other two splits.
The actor initiated divorce proceedings against Kidman in 2001, after 11 years of marriage and two adoptions, of their son, Connor, and daughter, Isabella. The final papers were largely kept under wraps, but the Daily Mail reported the settlement as being a 50-50 split, with the actress –- who is a star in her own right –- walking away with half of Cruise's estate and at least one property. 
When it came to the demise of his third marriage, the roles were reversed, with an apparently shocked Tom Cruise being served divorce papers. Katie Holmes filed for divorce in 2012, after nearly six years of marriage, and sought full custody of their daughter, Suri, as The Hollywood Reporter noted. But this time, at least it didn't cost him so much; it seems Cruise had wised up to the pros of pre-nuptial agreements, according to TMZ. He was not ordered to pay spousal support, merely $400,000 a year in child support until Suri turns 18 (for a total of $4.8 million), along with other expenses, including her medical bills and any tuition for her education. 
The actor has made major real estate investments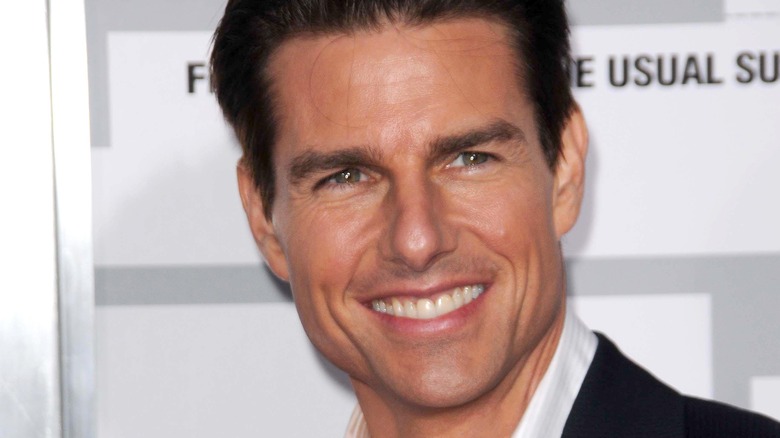 They say the rich just get richer, and that's been the case with Tom Cruise and his property transactions. Over the years, he's bought and sold several homes — all, of course, worth millions of dollars.
His holdings have included a 2,200-square-foot Manhattan apartment that he sold in 2013 for $3 million (via The Real Deal), an over 10,000-square-foot Beverly Hills estate that he cashed in for $39 million in 2016 (via the Los Angeles Times), and a villa in Hollywood Hills West he got $11.4 million for in 2015 (via the Los Angeles Times). In March 2021, he listed his 320-acre ranch in Telluride, Colorado, a popular winter destination. Used as a vacation home, Town & Country reported, the 10,000-square-foot main house boasted a killer après-ski aesthetic and featured extensive cedar woodwork, two fireplaces, a library, gym, eat-in kitchen, and private access to a national forest, all nestled in privacy at the foot of a majestic mountain. It sold for the asking price of $39.5 million.
One sale he might be regretting is that of his former estate (i.e. countryside mansion) in West Sussex, England. Cruise purchased the property in 2006, but then offloaded it in 2016 (via Sussex Live). He spent a lot of time in the area during the pandemic, particularly at Scientology's headquarters there, Tatler reported. Fortunately, he has the money to buy again, should he decide on a more permanent relocation.
Tom Cruise has a plane collection worth tens of millions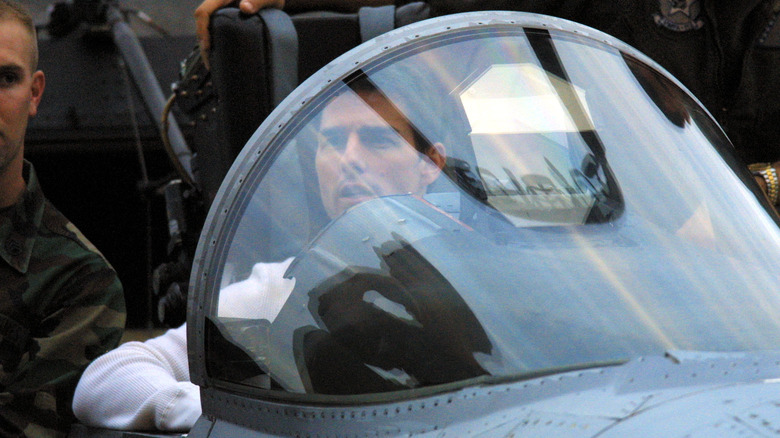 It's shouldn't be much of a surprise that Tom Cruise boasts a brag-worthy selection of jets and planes. After all, this is a man who uses his pilot license to perform many of his own flying stunts, including piloting an Airbus AS350 helicopter in "Mission: Impossible – Fallout" (via The New York Times) and a P-51 Mustang fighter jet in "Top Gun: Maverick," as the film's director Jerry Bruckheimer told Empire magazine (via USA Today).
Those "Maverick" scenes probably didn't require much training, as the actor has owned a P-51 that was built in 1946 since 2001, World War Wings noted. Cruise reportedly paid $4 million and, at the time, named it Kiss Me Kate after then-wife Katie Holmes (no word on whether that's been painted over yet).
When he wants a more practical ride, he can take off in one of his private jets, according to Forbes, which reports that he's rumored to have at least three. He owns at least one Gulfstream IV, a celebrity favorite, and has apparently kitted it out with a Jacuzzi and screening room. The price tag for such a bird? A sky-high $36 million, according to charter company iJet.
Tom Cruise is a master contract negotiator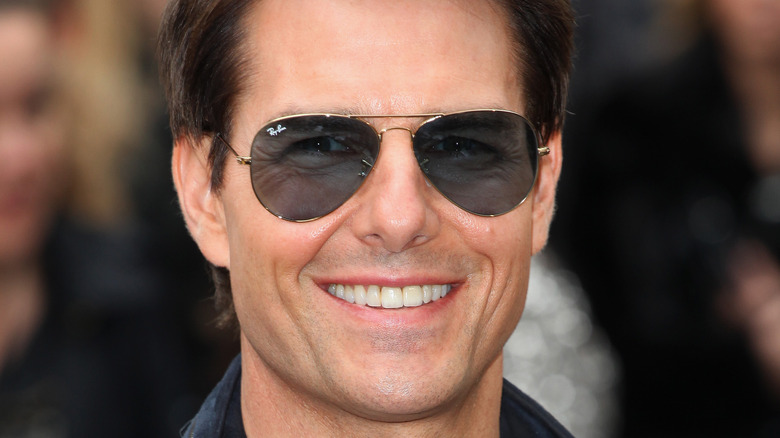 While Tom Cruise's acting salaries are impressive, he actually makes way more through what are known as "back-end deals," which essentially means he gets a certain percentage of a film's overall profits. The actor raised the stakes with his contract for the first "Mission: Impossible" movie, Slate reported, forcing the studio to change the way it did the math for such earnings. It's a bit complicated, but all you really need to know is this: He got them to pony up more. A lot more. And after everything was said and done, he took home his 22%, which totaled a staggering $70 million — which certainly added to Tom Cruise's net worth.
That amount increased to $75 million for "Mission: Impossible II" and "Mission: Impossible III," Parade reported, even though the latter film wasn't considered a commercial success. Still, it was good enough to see him ranked the ninth most powerful actor on the Forbes Celebrity 100 list in 2012. Over the years, his cut has increased, and in 2016, production on "Mission: Impossible – Fallout" actually stopped while the actor and studio hashed out his deal, Deadline reported. 
"It's a strange thing, being handed so much power, to do whatever you want to do," Tom Cruise told Roger Ebert about his burgeoning success in 1986. Seems he figured out how to handle it.
Source: Read Full Article