What Does Meredith Vieira Really Think Of Barbara Walters?
Barbara Walters was the mastermind behind "The View" – in 1997, the veteran television journalist recruited Joy Behar, Star Jones, Debbie Matenopoulos, and Meredith Vieira to join her on the panel show that grew to be wildly popular. While vetting the cast of women that would join her, Walters did her diligence. She had known Vieira as a news anchor on "Turning Point" but was not sold on her ability to be funny on camera until she spoke to Vieira's co-anchors, per Providence Journal. That being said it still took the figure a bit to get settled. "A couple of days of being ashamed, and then I went, 'Oh, this is great. … We don't pretend to do journalism,'" she told More magazine in 2006 (via The Baltimore Sun).
Alongside Walters, Vieira was a staple on the daytime talk show from 1997 until she left in 2006. Unlike several other former hosts, there was no drama when Vieira departed to join "TODAY." "I knew after nine years that it was my time to leave 'The View,'" she told the press in 2014 (via The Hollywood Reporter). "I have a pretty good sense of timing and when to leave before something bad happens." Though the on-air personality had trepidations about departing for a news-centric program. "I thought, I'll have to be careful with my personality – 'The View' was anything goes," she admitted to Good Housekeeping in 2007.
Keep reading to find out if Vieira was friends with Walters off-camera.
They weren't exactly friends off-set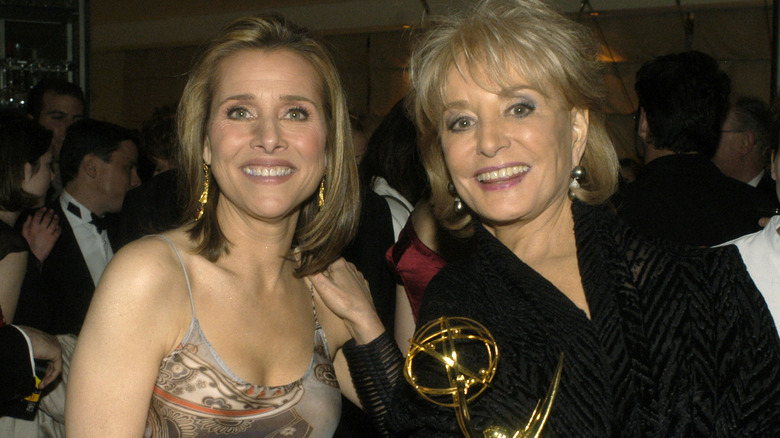 Throughout the years, Meredith Vieira has been respecting when speaking about Barbara Walters on a professional level, especially in regards to what Walters accomplished for female news anchors. "She was the one who knocked down a lot of the roadblocks. We had to hop over them, but she had to hurdle them," Vieira told the Providence Journal in 2014.
In September, Vieira expanded on her thoughts about working alongside Walters, and revealed that it could be both challenging and rewarding. "Once you work with Barbara, she's a very complicated person," Vieira told People. "On one hand, she's very kind and generous, and on the other, a real taskmaster and tough as nails, which is why she succeeded in this business at a time when there were so few women," the former "The View" host told the outlet. This painted a picture of a "tough but fair" boss, but did the two women hang out outside of work?
During an appearance on "Watch What Happens Live with Andy Cohen," Vieira was asked by a viewer if they kept in touch. Vieira revealed she had not spoken to her former boss since Walters' last day on "The View." "I had a professional relationship with Barbara, I really didn't see her off the set," Vieira said. "No reason. We just didn't really move in the same circles." Although the journalist added, "She's always been very lovely to me." 
Barbara Walters taught Meredith Vieira a lot about the biz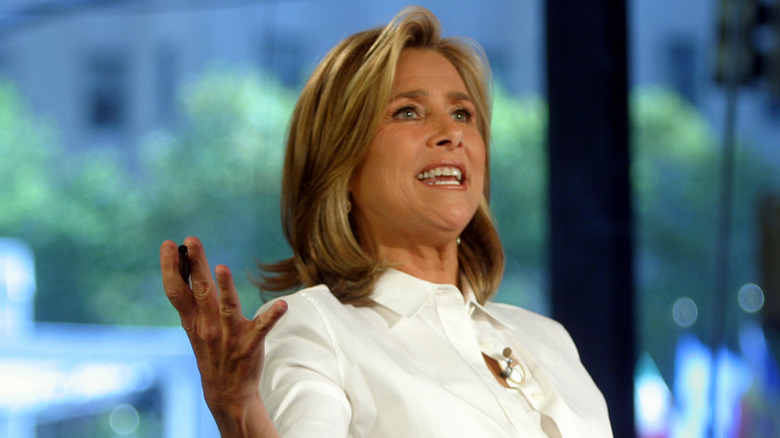 Following Star Jones' rocky exit from "The View" in 2006, Meredith Vieira was interviewed by TIME to weigh in on the drama. "I'm proud of the work we did there, but it's not a good time in the history of that show," Vieira was quoted as telling the outlet (via the New York Post). "It's hard to watch. It sort of became a joke," she added. 
That last part caused friction between Vieira and Barbara Walters, who was bothered by the comment. Vieira reached out to her former boss to clarify how the "joke" quote was taken out of context, and referred to how the media covered the daytime talk show. "I did call Barbara because I was very upset, and she was upset, too," she told NYP. Walters was understanding and even added some levity to the situation. "She said [the 'joke' quote] 'doesn't sound like you, but if it was you, I'll have to hurt your husband.'" Oy!
In 2015, Vieira was asked if she missed being a part of "The View," and the TV vet said the only part she missed were her "friends" from the show, per Page Six. She also revealed a couple invaluable lessons that Walters imparted on her. "She taught me to smile with my mouth slightly open and to write thank you notes — never send an email," Vieira added.
Source: Read Full Article