How Long Has Alex Rodriguez Been in Love With Jennifer Lopez?
Jennifer Lopez and Alex Rodriguez are the celebrity couple we love to love. From their sugar sweet Instagram posts about each other to their hand in hand red carpet appearances the couple keeps us enthralled by their love story.
Their children get along well, they're all smiles when they are seen out and about and they have nothing but nice things to say about one another. The two seem to really be a destined match, especially when you know how long A-Rod has had a crush on Jennifer Lopez.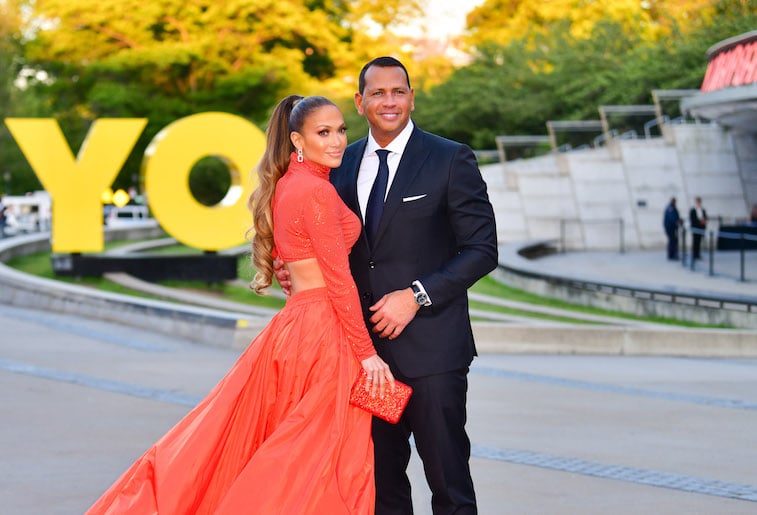 Jennifer Lopez has had a string of failed relationships
Jennifer has been married three times. Her first marriage lasted only 11-months, marriage number two was even shorter. Her second marriage was a 10-month commitment to dancer Cris Judd, which ended quickly Jennifer realizes, because it was avsafe, rebound from an exhausting relationship.
After her second marriage, Jennifer dated Ben Affleck. Their long and very public relationship was based on a true affection for one another, but it slowly died out. Perhaps due to their busy schedules or conflicting interests, but the tabloid dubbed Bennifer relationship was over in 2004.
JLo's third marriage was to Marc Anthony, who fathered her twins.
A-Rod has struggled in his relationships too
Though A-Rod has also had his share of failed romance, including the end of his six-year marriage to Cynthia Scurtis, this time it looks like he's got it all right. He posts about Jennifer to social media regularly, always praising her for her accomplishments or her skills in motherhood. It's clear that all of his past mishaps in love are behind him and he's learned from past mistakes to make this relationship work.
On their two year, dating anniversary he writes to her: "I can't believe it's been two years. Only 730 days, which have flown by, but it feels like we have been together forever. We are meant to be, and how much you mean to me cannot be put into words…." and the world swoons.
Rodriguez and Lopez seem like a perfect match
Rodriguez has dished in several interviews why he feels like JLo is just destined to be his soul mate. In their Vanity Fair interview, he lists all the things they have in common.
"We are very much twins…We're both Leos, we're both from New York, we're both Latino…and about 20 other things," he explains.
They seem to be really best friends who have learned a lot about what it means to love someone. As they are getting together later in life they bring experience to the table which helps them determine what is truly important in their relationship. Something, they both admit, they may not have been able to do if they were together when they were younger.
He's liked her for a very long time
In video footage from 1998, fans were awestruck to note that Alex Rodriguez, then only 23 years old, listed Jennifer Lopez as his dream date.
"Hopefully you can find me a date with her," Rodriguez quips in the video. Little does he know that in just about twenty years he will be down on one knee asking Jennifer to be his bride with a $1.8 million dollar engagement ring.
Their future plans
Two years after they began dating, while vacationing in the Bahamas, the former Yankee proposed to JLo with a stunning 16-carat, emerald cut diamond ring. He posted a photo of the proposal on his Instagram account with the caption "Locking it down."
The couple seems completely smitten with one another, but have not yet released any details about their upcoming vows. Much like the rest of their relationship, we can expect them to take it slow. Reports also suggest their four children will be heavily involved in the ceremony.
Source: Read Full Article