Inside Angelina Jolie's New Single World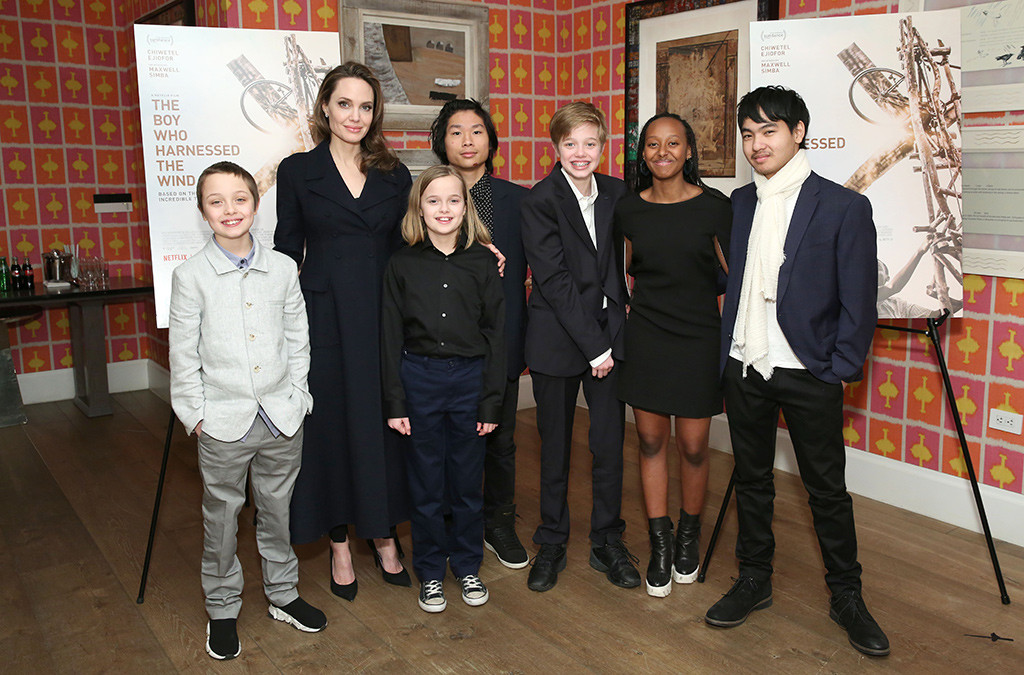 Monica Schipper/ Getty for Netflix
Squint, and Angelina Jolieis back to her old life.
She's shooting a movie on location, she's surrounded most of the time by her six kids, and she's celebrating another birthday looking as très jolie as ever.
But this time, she has to put the kids on a plane now and again so they can go back to Los Angeles to visit their father, her ex-husband, Brad Pitt. That's something both actors have had to get used to in recent years—coordinating when, and how much, Pitt gets to see the children.
Jolie and Pitt became legally single in April after a lengthy, sporadically acrimonious (and ongoing) divorce process and, while "tension and struggles" remain, they're in complete agreement that they need to put their children first, a source says.
Since she first filed for divorce in September 2016, Jolie has been living the 24/7 single-parent life, mixing birthday parties, sushi dinners and Target runs in with her work schedule—which, despite some past equivocation about whether she still desired to act, once again includes a slate of movies featuring her on the screen.
In fact, Jolie has relocated to Albuquerque, N.M., for the time being with Maddox, Zahara, Shiloh, Pax, Knox and Vivienne Jolie-Pitt to make the thriller Those Who Wish Me Dead, being directed by Taylor Sheridan based on a novel of the same name, with a cast that also includes Nicholas Houltand Tyler Perry.
Maleficent: Mistress of Evil, which she shot last year in London, is due in theaters on Oct. 18, and Jolie reportedly in talks to join the sprawling Marvel universe in the upcoming The Eternals, which would co-star Richard Maddenand, MCU Cosmic reports, possibly Keanu Reeves. Moreover, Come Away, described as a prequel to the stories of Peter Pan and Alice in Wonderland, which she was filming last fall with Gugu Mbatha-Raw and also produced, is in post-production.
"Angelina is incredible," Maleficent co-star Elle Fanning told E! News at the iHeart Radio Music Awards in March. "She is super hands-on with the whole production. It's amazing to watch her work."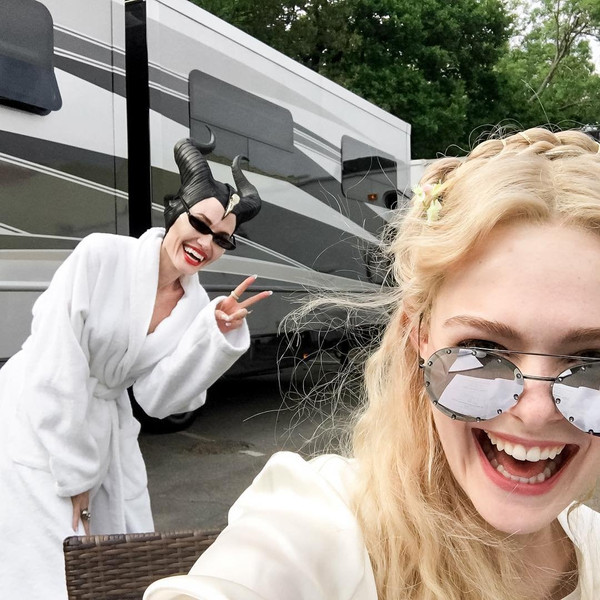 Instagram
"It's so funny," Fanning also told Elle last fall, "because people always ask, 'Oh, does she give you advice all the time?' and it's not so much like that. I think just watching her…and seeing what a great mother she is. All of her kids are there and she's walking around—like, last time I remember, she was walking around in the whole Maleficent outfit with two kids on each arm. She's a working woman and a mother, and that example is such a great one for me to see. You can do it all."
So Jolie is busier than ever after taking a break from acting but not from all of her other pursuits, which for the past three years have included directing (the Golden Globe-nominated First They Killed My Father), producing, traveling as a Special Envoy for the Office of the United Nations High Commissioner for Refugees, and lecturing at the London School of Economics.
And, at the start, middle and end of every day: the work of parenting.
In addition to all the everyday stuff, such as shopping at Whole Foods and going out for sushi, last week Jolie threw a 13th birthday party for Shiloh at The Basement LA, one of those very de rigeur establishments that feature escape rooms.
We're told that Shiloh, her siblings and a group of friends made it out of all four rooms on offer, watched a magician perform and enjoyed birthday cake.
But this is a fun-and-adventure-loving family, whether it was for Maddox with his 9th birthday at Go Kart World, the cruise on the Seine in Paris they took when Pax turned 7 or their outing to Thorpe Park in London for Jolie's 43rd birthday a year ago. Or when she went indoor climbing with Knox and Vivienne in January, for kicks!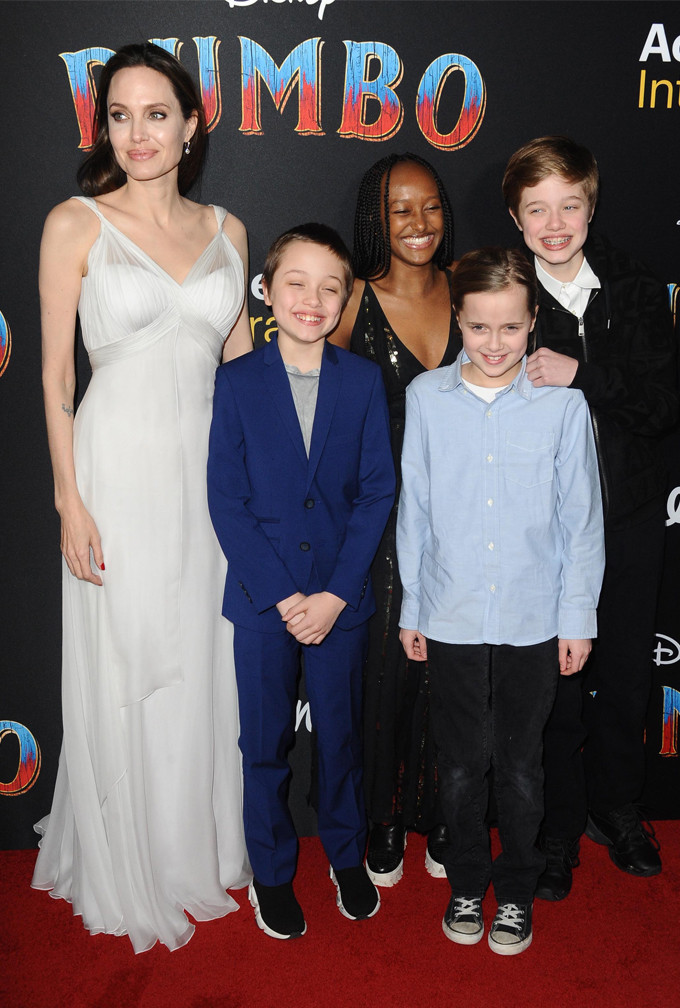 Sara De Boer/startraksphoto.com
The Jolie-Pitt kid red carpet sightings have also ramped up as the children have gotten older (the youngest, twins Knox and Vivienne, will be 11 in July). They travel just about everywhere with their mom, and more often than not she's on the move because of an event, be it the Toronto International Film Festival or the U.N. Correspondents Association Awards, both of which she brought her children to in 2017.
But seemingly more and more they've also been taking advantage of all the family-friendly offerings at their feet, such as the animation-honoring Annie Awards last year or the Hollywood premiere of Dumbo in March.
According to sources, the kids are also now living the life in Albuquerque, visiting their mom on set and enjoying all the comforts of home, of which there are many, even while living in a rented house.
"They have taken multiple Target runs and love shopping and going out to eat," a source shared. "Angelina spoils them with carts full of toys and sporting goods. She loves to indulge them with new things as much as she can. She has had to work a lot so she wanted them to have fun and stay busy. When they arrived, they set up their house with all kinds of new pets, stuff for their rooms and toys."
Though their base is wherever their mom is these days, the kids will be going to L.A. to see their dad this summer.
Last week another source told E! News that the kids had been visiting Pitt at home regularly, "and he does whatever he can to make their time together positive. Each relationship [he has with each child] is different, and some are better than others."
As for Pitt and Jolie, the source shared, "there's a lot of ongoing therapy and meetings to try and make decisions together and keep things consistent for the kids. They do not agree on a lot but they do both want the kids to be happy."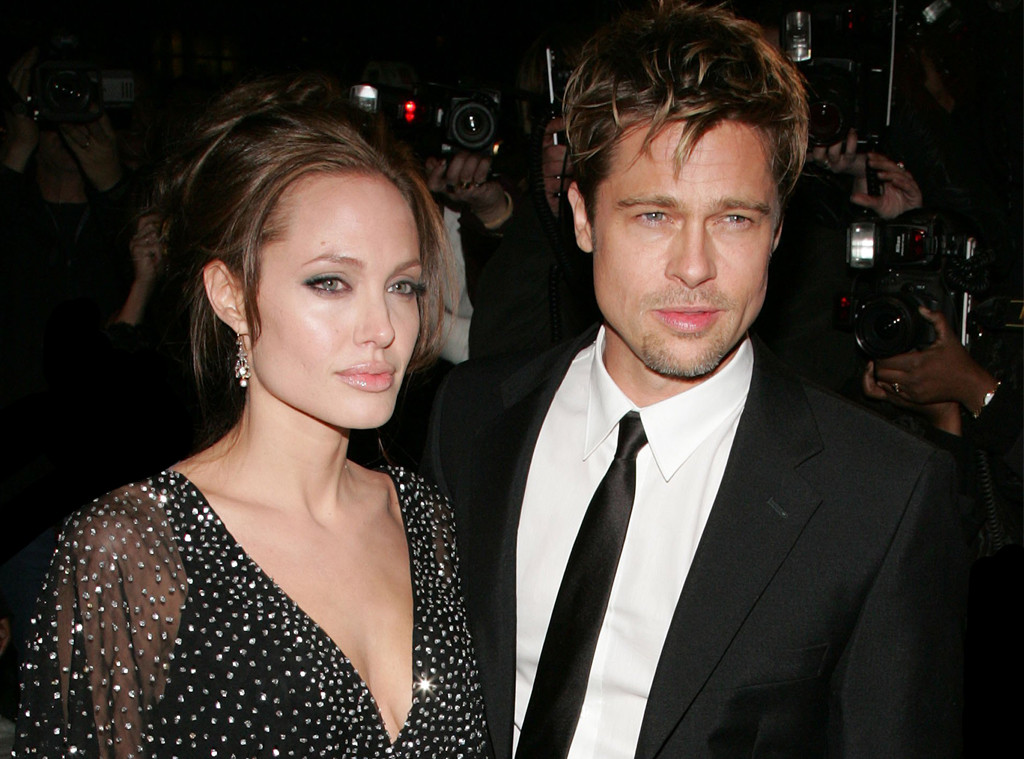 Bryan Bedder/Getty Images
And that's been the overarching theme since the stars went their separate ways after two years of marriage and more than 11 years together. Their divorce proceedings started with Jolie and Pitt estranged to the point that they only communicated through lawyers, though relations eventually thawed.
"It's just been the hardest time, and we're just kind of coming up for air," Jolie told Vanity Fair in the summer of 2017 in her first extensive sit-down to touch on her personal life after the breakup. "This is a big jump forward for us, and we're all trying to do our best to heal our family."
At the time she and the kids had just moved into an 11,000-square-foot mansion in L.A.'s Los Feliz neighborhood, a geographically purposeful location in that it's a short drive from Pitt's house—which remains the house he and Jolie lived in together when they weren't living in France, or London or New Orleans, or Malibu or any of the other places the family of eight hung their hats for an extended period of time.
Pitt spent most of his 2017 working close to home, shooting the sci-fi thriller Ad Astra, now due out in September, and Quentin Tarantino's latest, Once Upon a Time in Hollywood, in the L.A. area.
Aside from a revealing interview in the spring of 2017 with GQ Style, in which he talked about getting sober and his newfound appreciation for therapy, Pitt has let the occasional sighting of him speak for itself. His last movie (not including his—spoiler alert—Deadpool 2 cameo) was Netflix's War Machine, which came out two years ago. But with all eyes on the A-list-packed Once Upon a Time, starting with the reported six-minute standing ovation it received in May at the Cannes Film Festival, he's got a splashy summer ahead. The film hits U.S. theaters July 26, so the hype will only be building until then.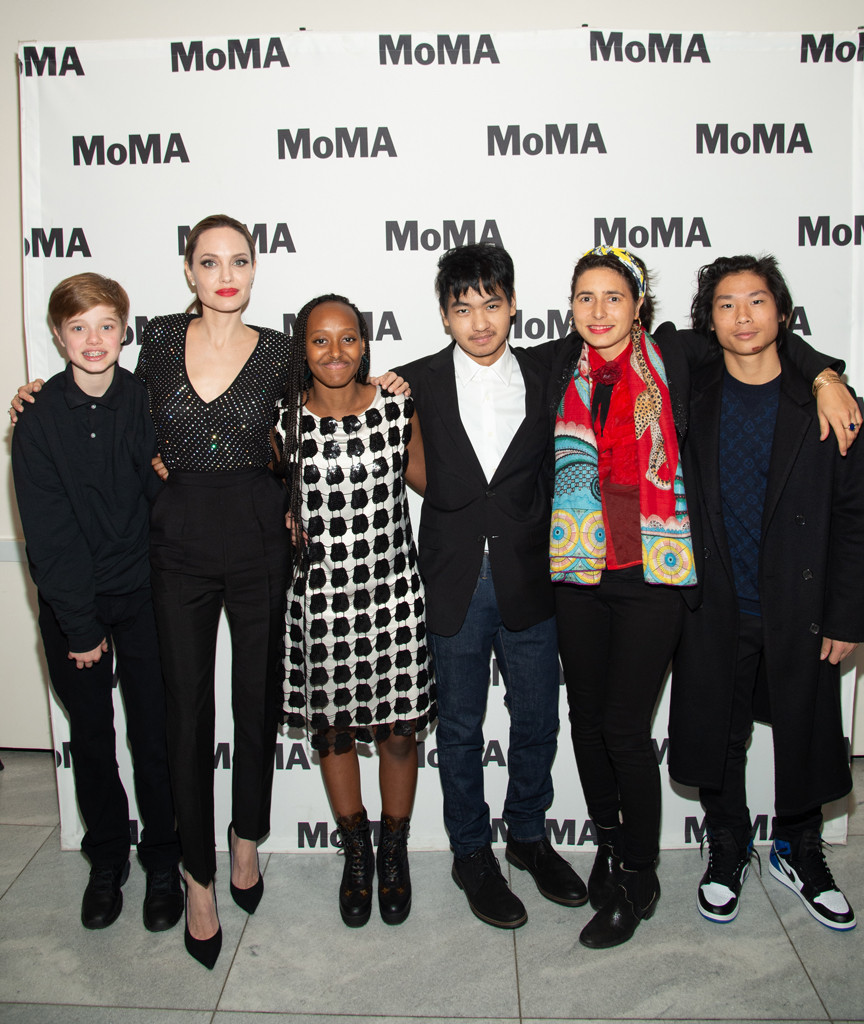 Mark Sagliocco/Getty Images for Museum of Modern Art
Acknowledging the possibly stress-related physical repercussions she'd been noticing, which also included drier skin and some new gray hairs, Jolie said, "I can't tell if it's menopause or if it's just been the year I've had." Overall, however, "I actually feel more of a woman because I feel like I'm being smart about my choices, and I'm putting my family first, and I'm in charge of my life and my health. I think that's what makes a woman complete."
After opening up about having her ovaries and fallopian tubes removed as a preventative measure after a cancer scare, and since her mother died of ovarian cancer at only 56 years old, Jolie told the Daily Telegraph in 2015, "I actually love being in menopause. I haven't had a terrible reaction to it, so I'm very fortunate. I feel older, and I feel settled being older. I feel happy that I've grown up. I don't want to be young again."
And just being around the kids is therapeutic. "They really help me so much," Jolie told the New York Times. "We're really such a unit. They're the best friends I've ever had. Nobody in my life has ever stood by me more."
Having been divorced twice before, part of moving on this time has included more present support from her father, Jon Voight, who split up with Jolie's mother, Marcheline Bertrand, when their daughter was 2 and son, James Haven, about 4. Bertrand raised them on her own for the most part, but Voight nurtured his daughter's acting career: While she first attended the Oscars with him at 10, Jolie's movie debut was at 7 years old in 1982's Lookin' to Get Out, starring her father.
Source: Read Full Article