Rep. Matt Gaetz Receives Backlash for Flirty Tiffany Trump Tweet
His emoji choices had people talking.
Florida Republican congressman Matt Gaetz got Twitter talking thanks to his reaction to a photo First Daughter Tiffany Trump shared on social media Wednesday night.
The president's 27-year-old daughter shared a series of images from inside the White House, where she was decked out head-to-toe in Republican red. Her caption was a simple heart emoji.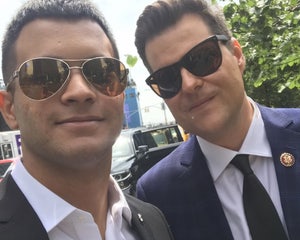 Matt Gaetz Suddenly Announces He Has 19-Year-Old Son, Not Everybody is Convinced
Gaetz retweeted one of the photos from his personal account, sharing a few choice emojis of his own. The ones he used: a heart, fire, heart eyes and a thumbs up.
The tweet was seen as both flirty and a little bit "creepy" by more than a few stars, most of whom lean Democratic.
Rosanna Arquette called Gaetz a "perv," while Sandra Bernhard said it was "so sad and droopy for all involved."
Rosie O'Donnell retweeted someone who asked "Anyone else sickened by this?" and replied, "on many levels … #yuk." Added Broadway and "Rescue Me" star Steven Pasquale, "Hey, creepy f–ker. We can see this. You know that, right?"
The post sparked some side eye from Twitter at large as well — see more popular reactions below.
Tiffany, however, didn't seem to mind — and, on Thursday morning, both liked and retweeted the message, before replying with, yes, even more emojis.
Source: Read Full Article