The New Moon in Libra Brings Chaotic, Confusing Energy
Six planetary retrogrades, including Mercury Retrograde, and the New Moon is in Libra…sheesh, talk about a lot going on! The New Moon in Libra occurs on October 6, 2021, but let's take a look at the rest of the cosmos first.
If you aren't familiar with what's going on in the sky right now, Mercury, Uranus, Neptune, Jupiter, Saturn, and Pluto are currently all retrograde. When a planet is retrograde, that means that it appears to be moving backwards in its orbit from our point of view on Earth. Periods of retrograde signify a time for reflection and revaluation, as well as a need to potentially recycle old lessons.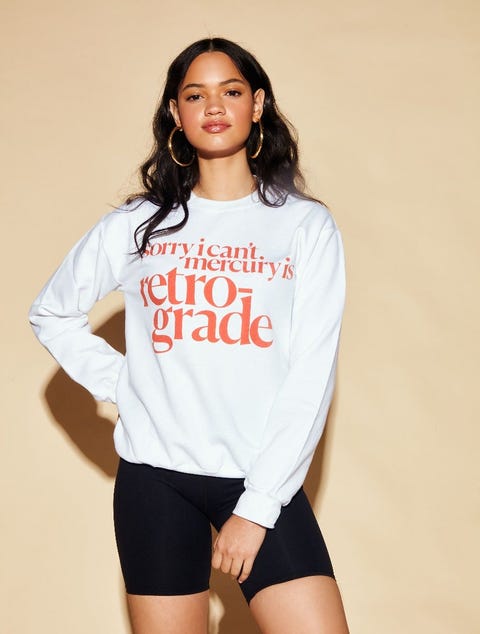 Cue the New Moon in Libra on October 6th at 7:05 AM, Eastern Time. Libra has a zodiacal energy that appreciates justice, balance, relationships, and all that is fair. Luckily for us, this New Moon is the perfect time to manifest a healthy and harmonious relationship. But the key to making the most out of this lunar transit is to sit down and get very clear on what it is that you want.
With Mercury—the planet of communication—both retrograde and conjunct (aka in the same sign as) the New Moon, you must be careful about undermining your feelings. Libra energy means we like to think that they are the masters of moving on, however in reality, we are human and sometimes residual pain shows up. If you do the work and process your feelings, this New Moon can bring about partnerships that exceed your expectations.
Read your New Moon horoscope:

Aries
Oh, what's this? It looks like a relationship is emerging for you—congratulations! All you have to do is be yourself and don't overthink it. What you're looking for is right around the corner. During this New Moon, be clear on your intentions: What do you value in a partner?
Taurus
Blessings keep falling on your lap—look at that! Suddenly, you are being revisited by an old work opportunity or coworker. Be willing to show how much you've grown over the past few months. What's old can become new and result in a much-needed advancement within your career. Be patient!
Gemini
Spend this New Moon with your eyes closed and your palms open. Allow for ideas, spirit, and soul to enter your essence. You are human and alive, which means that your mind is overflowing with a collection of experiences and sensations. Draw from what you know and create something magical. The New Moon is on your side.
Cancer
Allow the light to come into your home, Cancer. If your space is feeling empty, fill it with roses and candles. Beautifying your home is exactly the boost you need to make the most of this New Moon energy. Mercury Retrograde is bringing up old memories, but within the comfort of your room, you are capable of processing anything.
Leo
You won't produce the results you desire overnight, and that's okay. This New Moon is prompting you to reinvent your style. Take some time to look through your wardrobe and figure out how you want to communicate yourself to the world. Mercury Retrograde is helping you recognize how you're perceived by others, and it's time to enhance what you're working with.
Virgo
The New Moon in Libra is helping you attract what you've long sought after. If you've had a desire in mind, you can rest assured that you'll be able to attract it with no issues. You might not be able to appreciate your new toy in the immediate future, but at least you'll have it!
Libra
There is so much going on for you! Between the New Moon, your solar return (happy birthday!!!), and Mercury Retrograde, there is full focus on you! Take this time to attract your interests through being what you desire. Try not to overcommit to others—you are your priority for right now.
Scorpio
The key to this New Moon is to mind your emotions. You are the type to stifle your feelings, and that pattern derives from your childhood experiences. Thankfully, you're allowed to own up to what bothers you and take the appropriate actions afterwards. Use your words and speak up.
Sagittarius
Lucky you! New opportunities are opening themselves to you, specifically in the realm of presentation. Make sure you take yourself seriously because the words you say now could lead to scrutiny. If you are careful and thoughtful, you have the potential to make a lasting impact.
Capricorn
A new project is coming your way quickly! It's right up your alley and will have significant rewards. The only problem is that it won't come easily. Patience and commitment are key. Even though you may want to rush it, it's best to take things one step at a time.
Aquarius
Are you ready to be schooled? A new lesson is waiting for you just around the corner. It's not uncommon for you to collect accounts of other people's experiences—this enables you to better understand the world and those in it. But during the New Moon, you're being challenged to reflect on what you've learned and face some difficult truths about yourself.
Pisces
As the Moon joins the Sun in the sign of Libra, you will be presented with reason to push beyond your current state of being. You're no stranger to change—living in a continuous state of suspension and mutability is familiar to you. While the ushering in of new energy can be different, trust that it is necessary for your personal transformation.
Source: Read Full Article