The new networking: the way to nab your dream job has changed
Key points
Think about what you need help with, and ask for it.
Be clear when you meet a business contact about what value you can add.
Have your assets, like resume and headshot, ready to go.
Begin working towards your goal, and don't look back.
You're about to meet someone for the first time and hope they might hire you.
Do you tell them: a) your professional goals, b) how much money you're worth or c) about a work struggle, like that time you tripped in front of your boss and landed arse-up at their feet?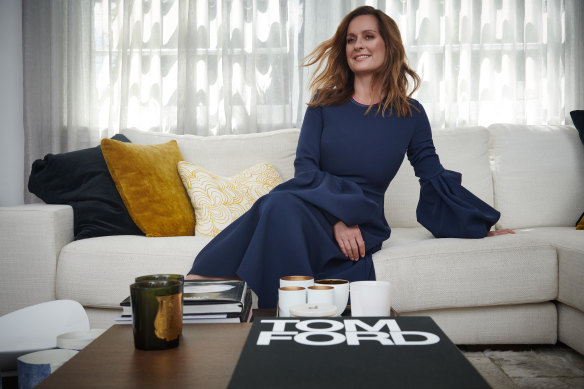 "As soon as I gave myself permission to share it, the opportunities that came to me just opened up tenfold," says business mentor Tory Archbold about the impact of speaking about the most difficult time in her life.
Most definitely something in the vein of "c", says entrepreneur and business coach Tory Archbold.
"You know, the No.1 thing that [her female clients] are afraid to share is obviously a deep, dark hidden secret," says Archbold, founder of Powerful Steps, a mentoring and public-speaking business that teaches women how to meaningfully network and build their personal brand or business. "But once they understand the power of what they've overcome, in terms of that challenge, it gives them the possibility to share it. And then what happens when they're networking and throw it into a conversation, that other person is like, 'Oh, my friends had that experience'. And it ignites a conversation."
This is "the new networking", says Archbold, whose book Self-Belief Is Your Superpower comes out in April. It's a world away from pre-COVID-19 days, she adds, when networking was "ego-led" and many of us felt we had to hide our insecurities under bravado. And it works.
She would know.
For years, Archbold hid how "broken" she was while enduring a difficult marriage when she was running her successful fashion PR company, Torstar. What would people, accustomed to seeing her at glitzy fashion launches with the likes of Drew Barrymore, think?
Your work doesn't speak for itself, so you really do need to enable your work to be seen and heard.
"As soon as I gave myself permission to share it, the opportunities that came to me just opened up tenfold," says Archbold about what happened after she shared her story. CEOs got in touch. People were eager to hear her story. It gave her the confidence to launch her business globally. (She was recently featured on a New York Times billboard in Times Square.)
Tapping into their vulnerabilities is working for her students, too.
"The people I used to work with in finance, [I thought] they're going to think I've gone crazy," says Julia Scott, 47, a chartered accountant, about leaving her work at a major Sydney private equity firm to start her business, Love Luck Wealth.
"It's very masculine, especially in wealth management," says Scott, who now incorporates feng shui principles to teach women to confront their "emotional triggers" around finances. "But, ironically, I've spoken to them since, and the guys are like, 'this is amazing'." Scott now works with Macquarie Bank and NAB, in addition to training private clients.
But before taking one of Archbold's courses on how to pitch her business, Scott was afraid to put her name or photo on her website. She says she "self-sabotaged" an opportunity to help the Commonwealth Bank train its 48,000 staff. "We [women] always grow up being told to sort of not rock the boat and be quiet and play nice," says Scott.
It's a stumbling block that Karen Eck has seen time and time again.
Collabor8Women co-founders Samantha Theron (left) and Karen Eck.Credit:Simon Cardwell
"Many women struggle a crisis of confidence when they get to mid-career," says Eck, co-founder of Collabor8Women, a networking business that connects women, eight per table, over lunch to help develop "authentic connections in business". "They have sort of enabled their work to speak for itself early on in their career, then suddenly things stop," says Eck. "They don't put their hand up for promotion. They don't want to speak. They feel awkward."
Traditional networking has often failed them.
"You're expected to work the room; it feels endless and if you haven't met enough people and haven't handed out enough cards, you might feel that you haven't been successful," says Eck, a veteran publicist who has connected more than 450 women since Collabor8Women launched in 2021.
This was Sophie Lanigan's experience. "I've just felt like I was having an out-of-body experience, but not in a good way," says Lanigan, a 27-year-old trained architect and burgeoning artist. "You know those scenes [in film] when the person's in a coma, and they come up and see themselves, and is like, 'what is happening?'"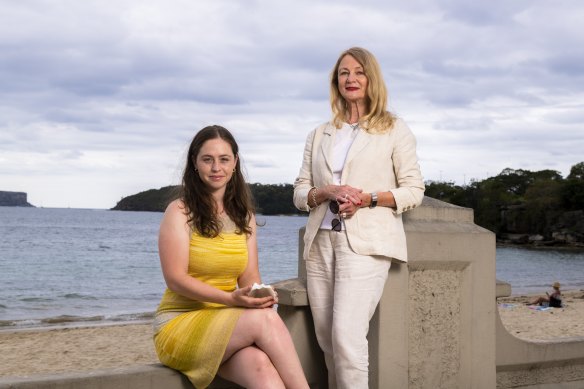 "I've just felt like I was having an out-of-body experience," says emerging artist Sophie Lanigan, left, about how she felt about networking prior to meeting veteran marketing consultant Janine Bavin, right, last year.Credit:Rhett Wyman
So, what tips do the new networking experts have for professionals of any gender, range of experience or goals?
"One is to understand that your work doesn't speak for itself, so you really do need to enable your work to be seen and heard," says Eck. By this, she means you need to be "asset ready": have a headshot and summary of your expertise ready to go – and be able to tell your story at the drop of a hat – so you can grab opportunities when they arise.
Also, "be really honest with yourself" about what you need help with to achieve your next goal, and don't be afraid to reach out for it, says Eck.
It's what helped Lanigan connect with Janine Bevan, a Sydney-based marketing consultant and chair of The Sydney Institute of Marine Science at a Collabor8Women event. (Bevan put Lanigan in touch with one of Australia's foremost climate change researchers at the institute, who is now helping Lanigan with her PhD.)
And it's what enabled Kirsty Ghahramani to nab her first CEO position.
"The more I was telling my story, it was a bit of a slap in the face, a 'what are you doing moment?'" says Ghahramani, 42, of the realisation that she had been helping other people succeed in supporting leadership roles, for decades, but was ready to be the primary leader. It came after attending one of Archbold's workshops.
"One of the biggest hurdles that I've probably worked through is I always saw myself as the person behind the leader … [and] when it came to really defining what my heart desired, I actually realised, I want to be recognised as the leader," says Ghahramani, who previously held a senior role at Afterpay. "I think that self-worth of going, 'I've got the skills, the capability and the influence to be able to deal with that within the team' … [It] made me realise, 'why am I holding back, when I should be pushing ten times harder forward?'"
She met the founder of Australian hair company Original Mineral at Powerful Steps and has just started as CEO of the company.
"It's defining your dream," says Ghahramani, a mother of two children, aged 15 and 13. "It's really taking the time to go, 'what do you want?' And I don't think we ask ourselves that question enough."
Make the most of your health, relationships, fitness and nutrition with our Live Well newsletter. Get it in your inbox every Monday.
Most Viewed in Lifestyle
From our partners
Source: Read Full Article