Heres What Angel Love Davis From Basketball Wives Is Doing Now
During her first and only season of VH1's "Basketball Wives LA," Angel Love Davis triggered mixed emotions in fans. They either loved her or hated her — but either way, they couldn't stop talking about her and the relationship she had with NBA star, DeJuan Blair, the father of her daughter. And in 2016, she sat down with VH1 to talk about how the show changed her life, for better or worse. "My life was just amazing but then my life just crashed. I was really at my wit's end and I didn't know how to overcome [the grief of loss] and adjust to life again." She continued, "Prayers and trying to get a strong relationship with god really held me together."
Davis noted how she lost her grandmother and brother during the first season's airing, and between those losses and the beef with other "Basketball Wives" cast members, she ultimately didn't return to the show after Season 5. Not to mention, her NBA connection fizzled out as she and Blair broke up before the season premiered. 
So what is Angel Love Davis from "Basketball Wives" up to now? Here's what we know.
Angel Love Davis expanded her family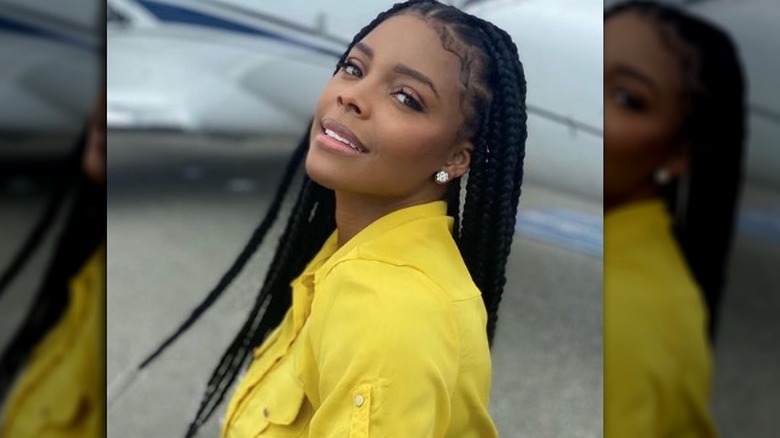 Although it's been a while since she's been on our screens, Angel Love Davis told People in September 2020 that she welcomed a second child — a boy she named Savior Amar. Savior Amar — who joined his older sister, Heaven — was a miracle baby, whom Angel had at 28 weeks gestation. She told the outlet that it was a very difficult thing to go through, noting how Savior had a "feeding tube" and was on oxygen for a "little while." However, she was lucky because the baby turned out to be a fighter, and everyone is happy and healthy today.
As for the little guy's father, Angel has not revealed his identity at the time of this writing, and she has publicly been single since breaking up with NBA star DeJuan Blair.
When Angel isn't busy with mommy duties, she runs her clothing line, Life Angels. Founded in 2014, the company "was designed to recreate the plain, boring, uncomfortable uniform medical apparel to more of a fashion forward, glamorous, new improved uniform apparel line," according to its website. Sounds like the ex-reality star has her hands full!
Source: Read Full Article