James Bulger's murder echoes through obsessive drama The Victim
Like many successful actors, Kelly Macdonald values those close to her who don't care that the 43-year-old Scot has starred in feted movies such as Trainspotting and No Country for Old Men, as well as the television series Boardwalk Empire and Black Mirror. That detachment was how Macdonald knew people were reacting to her latest performance, in the BBC thriller The Victim: her friends were suddenly asking her about something she had appeared in.
"They know what I do and it bores them – half the time they can't even get the title right – but they watched this one and they would bring it up in conversation," Macdonald says. "One of my friends told me that it changed her beliefs. She said, 'people do terrible things in this world, but we never think about their past or what might have driven them to do this, or the consequences for the rest of their life'. I realised this series stays with you."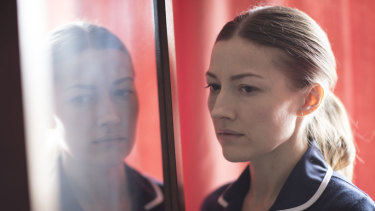 In The Victim, Kelly Macdonald plays the mother of a murdered child who is determined to identify the perpetratorCredit:BBC First
Tautly stretched over four episodes airing on Foxtel's BBC First, The Victim is a distinctly Scottish mystery that pays painfully close attention to the ramifications of a horrible event, revealing how trauma reverberates down the years to distort everyone and everything it touches. Macdonald plays Anna Dean, an Edinburgh nurse living with the murder 14 years before of her then nine-year-old son, Liam, by a 13-year-old boy, Eddie J. Turner.
As a minor who pleaded guilty, Turner did not stand trial or offer an explanation, and upon his release as an adult was given a new identity to disappear into. When a local bus driver, Craig Myers (James Harkness), is identified online as Turner, he's brutally beaten at his front door by a masked attacker. When police link the unverified identification to Anna, she is charged with incitement to murder. Her subsequent trial is the narrative's framing device.
"I thought, 'who's going to watch this, it's so upsetting," Macdonald says, "but people were obsessed. It's a really well told story and you're never sure who to believe or what someone might be hiding."
James Nesbitt in The VictimCredit:BBC First
While there are similarities to infamous real life crimes, such as the 1993 murder of Liverpool toddler James Bulger by two 10-year-old boys, and subsequent attempts to identify the grown perpetrators, The Victim's creator Rob Williams is focused on how those involved in such a tragedy can never be reduced to a familiar outline. Anna is not just consumed by grief's sadness, she seethes with its rage as well. Her anger isn't cathartic, it's destructive.
"The character of Anna was entirely relatable, which is the kind of part I'm used to getting, but she's also incredibly unlikeable at times," Macdonald says. "She was never just a generic grieving mother trying to endure this terrible situation – there's much more nuance than that."
"I don't ever want people to forget," Anna vehemently insists, refusing a plea bargain that negates the need for a trial, and the part, alongside conflicted family members and John Hannah as the possibly compromised investigating police officer, Detective Inspector Stephen Grover, makes exacting use of Macdonald's natural warmth. Director Niall MacCormick and director of photography Jan Jonaeus keep the camera close to Macdonald, letting Anna's interior emotions take hold.
"I'm not always aware of what the cinematographer is doing because I tend to get immersed with my side of things when I'm on set," Macdonald says. "I've worked with lots of actors fascinated by the camera department, but I've never really got my head around it and at this point I think it's good that I haven't. As far as I can I'm pretending they're not there."
For all the varied peaks of her career – not everyone works with the Coen brothers and voices the lead in a Pixar movie (2012's Brave) – Macdonald is unassuming about her career. The mother of two, who is separated from her musician husband, Travis bassist Dougie Payne, says that her hardest task on the set of The Victim was learning her lines for a crucial 12-minute scene in the show's final episode. The demanding performance came easily.
Kelly Macdonald in The VictimCredit:BBC First
"That's always just there on the day. I'm not sure how I feel about the fact that I can so easily reach these extreme places – it must be bubbling under my very thin veneer. I've been doing this for a while and I used to worry about whether I could access the emotions and sometimes that would work against me," Macdonald says. "But life knocks you about so I have a lot of life experiences that are easy to access. I watch younger actors preparing with their headphones on and I'm not sure what they're listening to, but it looks very serious."
Macdonald, who is currently watching Big Little Lies and catching up on the British sitcom Mum, remembers when in Britain you were either a television actor or a movie actor – "and never the twain shall meet," she notes. Having dipped in and out of television, including the terrific 2003 British thriller State of Play, Macdonald is now happy to work wherever there are "good words" written.
"There was one production where I got halfway through the shoot and realised that I didn't know if we were making a movie or a TV show. I had to ask, which was quite embarrassing," Macdonald says. "You can't tell by the food or the others actors anymore. It's a free-for-all, and I like that."
WHAT The Victim
WHEN BBC First, Monday, 8.30pm
Source: Read Full Article