Marvel's 'Eternals' Reportedly Breaks Into Top 5 Longest Superhero Movies Ever
Audiences need to buckle in for a long ride with Marvel's Eternals. The film spans thousands and thousands of years in-universe. The Eternals runtime looks to run over 2.5 hours in our universe, breaking it into the top 5 longest superhero movies ever, including both Marvel and DC.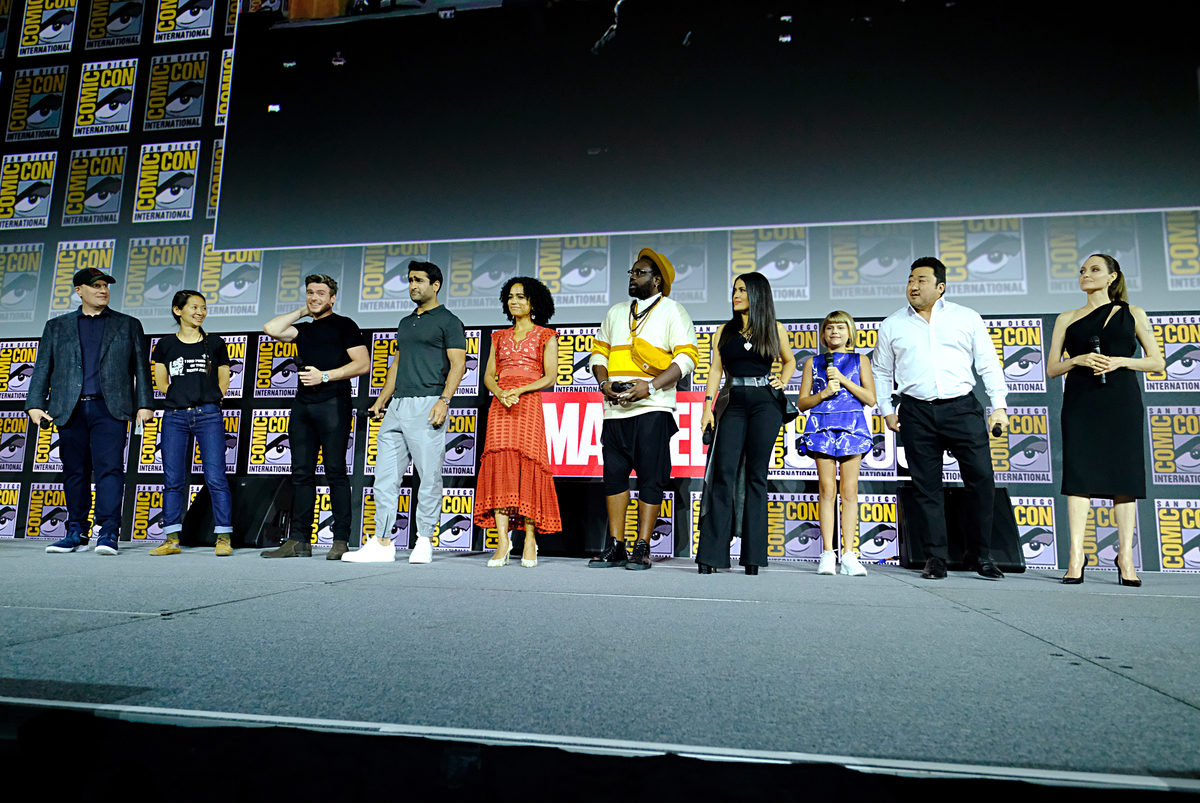 The top 10 longest superhero movies before Marvel's 'Eternals'
DC dominated this particular list, boasting 7 of the 10 longest superhero movies. The release of Justice League's Snyder Cut demolished all others for the number 1 spot. It nearly doubles other entries on the list.
 At number 10, Captain America: Civil War came in with just under 2.5 hours, at 147 minutes. Marvel also takes the number 9 spot with Avengers: Infinity War at 149 minutes.
Starting with number 8, DC starts dominating. Wonder Woman 1984 boasts 151 minutes. Christopher Nolan's The Dark Knight and Batman V Superman: Dawn Of Justice come at 6 and 7, each 152 minutes.
Superman Returns with 154 minutes, and Watchmen clocks in at 163 minutes. Number 3 goes to The Dark Knight Rises at 165 minutes.
Marvel finally breaks up DC's streak with Avengers: Endgame sitting right above the 3-hour mark, 181 minutes. Lastly, Zack Snyder's Justice League obliterates the competition for number 1 at 242 minutes.
Marvel's 'Eternal' reportedly blows past the bottom 5 longest superhero movies
Director Chloé Zhao does not plan to mess around. Eternals allegedly marks the second-longest superhero Marvel movie ever. The Direct via Kino Metro reported the runtime at 156 minutes.
Marvel's Eternals' runtime of 2 hours and 36 minutes could shoot it right past Superman Returns for the number 5 spot.
It would sit at 7 minutes longer than Avengers: Infinity War, making it the second-longest Marvel superhero movie.
However, some outlets question if the run time holds true or not.
"Other movies listed on the site, such as Halloween Kills and The Last Duel, have accurate runtimes listed ahead of time, so it's likely a safe bet to say that this is an accurate number — though, it's important to note that it isn't final just yet," The Direct notes.
'It could be longer!' Zhao said
While solo hero outings have the luxury of a small cast, Marvel's next movie boasts a cast of 10 superheroes. Writers had to divide screentime for everyone, from Angelina Jolie's Thena to Kumail Nanjiani's Kingo.
"According to Zhao, its length is intentional. 'It could be longer!' she told Fandango during an extended conversation about the film. 'You know, it's ten characters, the Celestials and 7,000 years. There's a lot going on.'"
Across the internet, the official time reportedly sits around 156 – 157 minutes, depending on the source.
However, AMC confirmed it at 156, 2 hours, and 36 minutes. It officially broke into the top 5 longest superhero movies ever made.
With Marvel hoping for Eternals to become a new flagship franchise like Guardians of the Galaxy, Marvel's Eternals may not mark the last Eternals movie to make that top 10 list.
Source: Read Full Article