'Sex and the City': Sarah Jessica Parker Once Praised Matthew Broderick for Having the 'Courage' to Live Through the Mr. Big and Aidan Scenes
Sarah Jessica Parker and Matthew Broderick are undoubtedly one of Hollywood's most adorable couples. The pair have been together for over 20 years and share three children. However, for six years of their marriage, Parker played Carrie Bradshaw in Sex and the City. During that time, she had many on-screen lovers, including Chris Noth as Mr. Big and John Corbett as Aidan Shaw.
Once SATC ended, Parker publicly praised her husband for putting his pride aside when it came to some of the show's storylines.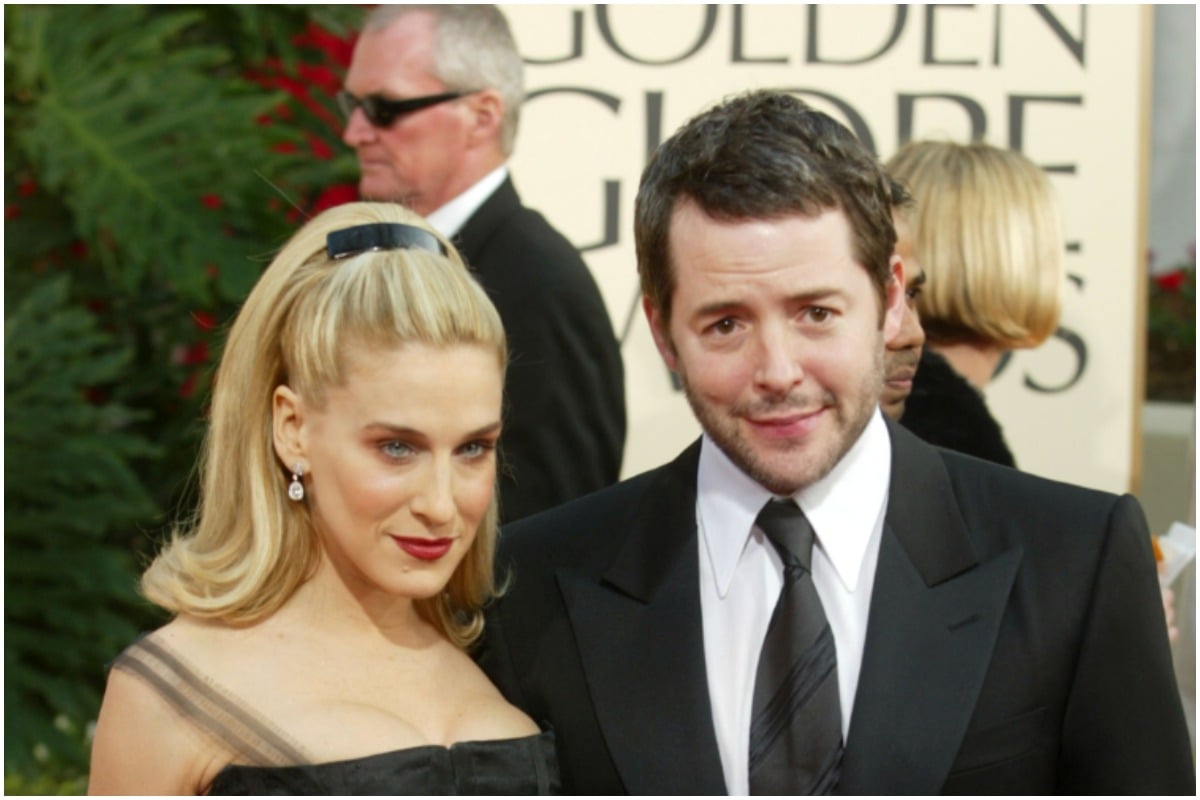 Carrie Bradshaw had two great loves on 'Sex and the City'
While Sex and the City primarily focused on Carrie and her three best friends Miranda Hobbes (Cynthia Nixon), Charlotte York (Kristin Davis), and Samantha Jones (Kim Cattrall), the show also pushed the writer's love life into the forefront. In the show's 1998 pilot, viewers met Mr. Big for the first time. From their initial meeting, Carrie and Big embarked on an on-again, off-again relationship. However, they split up in season 2 when Big took a job in Paris. After Carrie broke up with Big, he married a 20-something named Natasha (Bridget Moynahan).
In season 3 of SATC, Carrie met Aidan at his furniture store. The pair dated for several months before Carrie and Big reunited. Her affair with her ex soon haunted Carrie, and she ultimately confessed to Aidan. After a brief time apart, the couple reconnected in season 4. Unfortunately, their relationship ended again when Carrie refused to marry Aidan. 
Ultimately, Big professed his love for Carrie in Paris during the SATC series finale. The couple then married in the first SATC movie. Although Carrie ended up with Big, Parker explained on The Bradshaw Boys podcast that she could never choose between "Team Aidan" or "Team Big." 
"The best of both worlds is, in fact, having your cake and eating it too," she said. "So I feel like I got both teams. Ultimately, Carrie should have ended up with Big, but it was a delight to mess around before she arrived at that."
Why Sarah Jessica Parker was grateful Matthew Broderick 'let' her work with her 'Sex and the City' love interests
In 2001, Parker won a Golden Globes award for her role as Carrie Bradshaw. When she accepted her speech, the Girls Just Want to Have Fun actor thanked SATC director Michael Patrick King for supporting her on the show. Additionally, Parker recognized her castmates and the show's crew.
At one point in the speech, the actor praised Broderick for encouraging her to take on SATC. She also applauded his patience during the scenes between her, Noth, and Corbett. 
"I'm so beautiful, ladies, so I have the great good fortune to work with," Parker said in her speech.
"And my husband who has the courage to, to let me work with the likes of Chris Noth, and John Slattery, and John Corbett, and he even encouraged me to take this job."
Did Sarah Jessica Parker and Matthew Broderick ever work together on 'SATC'?
Although Parker's husband wanted her to play Carrie Bradshaw, Broderick never wanted to appear on SATC. Besides his visits on the set, the Glory actor opted not to be involved with his wife's hit show. However, he shared with The New York Times in 2020 that he received offers for two different SATC roles.
While he wasn't in the first installment, Broderick could always land a guest role on the HBO comedy's reboot, And Just Like That… So far, Parker, Nixon, Davis, Noth, and Corbett are reprising their characters for the series. 
Source: Read Full Article