Shah Rukh Khan Has a 'No Kissing' and 'No Horse-Riding' Contract on Every Movie
Shah Rukh Khan has a long history in the movie business, but he knows where to draw the line for himself. The actor and producer has a loyal following and over 100 acting credits to his name. However, Khan has a movie contract that he refers to that specifies "no kissing" and "no horse-riding" that he applies to his performances on the silver screen.
Shah Rukh Khan is the 'Baadshah of Bollywood'
Movie star Khan has several nicknames that his fans call him. One of which is the 'Baadshah of Bollywood,' which is a reference to 1999's Baadshah. Khan's other names include 'King of Bollywood,' 'King Khan,' and SRK. He's one of the most successful movie stars in the world, but he never loses his charm and wit.
Khan originally started in television before making the move to the movie business. His filmography started with villainous roles, but he would later grow to star in more diverse movies over the course of his career. Khan had some bumps along the way, but he always manages to rise back up to the occasion.
Shah Rukh Khan explained why he has a 'no kissing' and 'no horse-riding' movie contract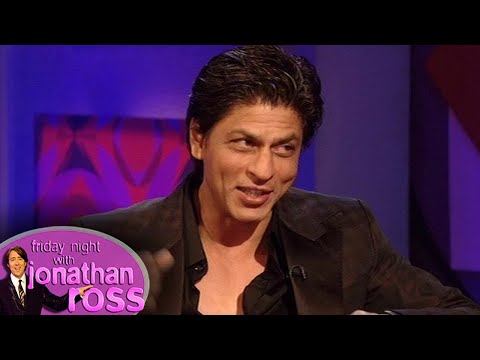 The Friday Night With Jonathan Ross YouTube channel uploaded Khan visiting the show to talk about his movie roles and personal life. Host Jonathan Ross mentioned that many of his Bollywood films don't show a whole lot of sex, nudity, or kissing. He asked Khan if this is due to movie censorship, a personal decision, or something else.
"No, you know, our films are like a little cabaret variety because we want to cater to a 90-year-old lady and the 9-year-old little kid in the house," Khan answered. "So, we put in everything, but now you have a lot of kissing and sex in Hindi films. Personally, I'm awkward kissing on-screen, so I don't do it. I have it in my contract that no horse-riding and no kissing."
Ross probed Khan a bit further to ask about why he feels awkward kissing on-screen in his movie productions.
"I feel a little awkward," Khan said. "I don't know. Have you shot for a film you should come and see it. A lot of people in India, we're very disorganized and we make a lot of noise and there is no private moment on the set. Then, you have the kiss. (Pretend kisses) Not that I kiss like that."
However, Khan specified: "Television is OK, I kiss on television."
The actor wasn't afraid to return to television
Many major Hollywood actors refuse to ever make appearances on television. However, Khan didn't have concerns about returning to the small-screen after becoming a major movie star. As a result, he stepped in as the host of Who Wants to Be a Millionaire?, which the actor said was an experiment.
"No, it wasn't like that," Khan said. "I used to work on TV, for me to go back and work on TV wasn't a problem. But, it was an experiment, will a movie star, like you said, be accepted on television or not? Television has just got very big in India in the last three or four years, so it was an experiment."
Source: Read Full Article