SNL's Bill Murray and Chevy Chase Reunite – and No, They Don't Hate Each Other
Saturday Night Live alum Chevy Chase recently shared a sweet reunion photo with Bill Murray during one of his tour stops in Charleston, South Carolina.
Murray, who spends a considerable amount of time in Charleston stood next to Chase's wife Jayni and Chase couldn't help but crack a joke in the caption. "Here's Bill and I failing to get into Jayni's pants," Chase wrote. A few fans commented in the Instagram thread that they thought the comedians had a longstanding feud. But their legendary smackdown in the 70s was their only big fight. And, in fact, they've had a cordial and friendly relationship.
Chevy Chase said he's always been on friendly terms with Bill Murray
The Instagram photo is a long way from their fight in the 70s. Murray and Chase said their fight in 1978 was fueled by their sudden rise to fame. But ultimately they remained friendly. "We've never been close, but we've been very friendly, we play golf together. I think we've made an effort over the years to get to know each other better and to put that stuff behind," Chase told Howard Stern in 2008 (via Best Life).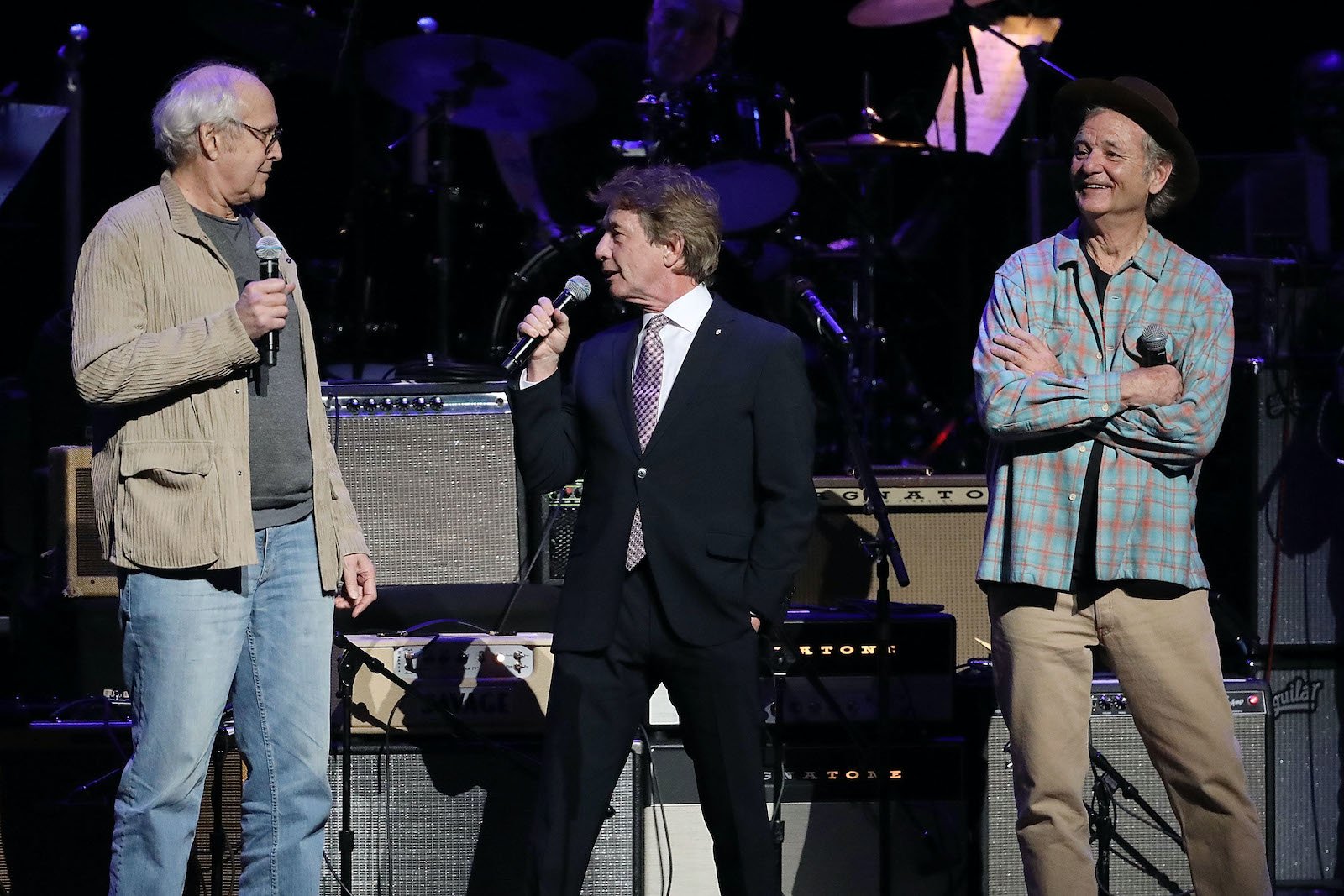 Chase blamed John Belushi for instigating the fight. He said Belushi "had been quite jealous of my rise to fame. I found out later, John said things to Bill about me that simply hadn't occurred. So he had already worked Bill up a little bit."
Chase also took some blame for the fight as well. "And I was probably a little full of myself after a year of fame or whatever."
Bill Murray backed up Chevy Chase's recollection of the fight
For his part, Murray agreed they were all a little full of themselves at the time. "It was really a Hollywood fight, a 'Don't touch my face!' kind of thing," Murray told Empire in 2012.
"Chevy is a big man, I'm not a small guy, and we were separated by my brother Brian [Doyle-Murray], who comes up to my chest. So it was kind of a non-event. It was just the significance of it. It was an Oedipal thing, a rupture. Because we all felt mad he had left us, and somehow I was the anointed avenging angel, who had to speak for everyone. But Chevy and I are friends now. It's all fine."
'SNL' alums recently recalled their fight – and it wasn't pretty
SNL alums Jane Curtin and Laraine Newman worked alongside Chase and Murray in the 70s and witnessed the fight firsthand. They recently recounted the spat during an appearance on Bravo's Watch What Happens Live with Andy Cohen. Newman recalled the fight as being "sad and painful and awful."
"It was that sad kind of tension that you would get in a family, and everybody goes to their corners because they don't want to have to deal with the tension, and it was uncomfortable," Curtin said. "You could understand, you know, there were these two bull mooses going at each other, so the testosterone was surging and stuff happens."
Newman said, "I think they both knew the one thing that they could say to one another that would hurt the most, and that's what I think incited it."
The smackdown took place in Belushi's dressing room where Chase and Murray just started insulting one another. And then Murray told Chase to go have sex with his then-wife. Chase came back with telling Murray that his face looked "like something Neil Armstrong landed on." In addition to Newman and Curtin, Gilda Radner also witnessed the brawl.
Source: Read Full Article