'This Is Us': Mandy Moore Says Rebecca Sets the 'Gold Standard' for the Mother She Wants to Be
As This Is Us fans prepare to say goodbye to the beloved show and its characters, Mandy Moore reflects on her time playing Rebecca. And the actor explained what the character has meant to her over the years and how she has influenced Moore as a mother.
Mandy Moore plays Rebecca in 'This Is Us'
At the beginning of This Is Us, viewers were desperate to learn how Jack died. And they were eager to get as much time with Milo Ventimiglia's character as possible. But after the show solved the mystery surrounding Jack's death, the focus shifted from the patriarch of the Pearson family to the matriarch.
Since season 2, This Is Us has teased a flash-forward scene in 2032. Fans have watched as the Pearsons make their way to the house Kevin built for Rebecca to say goodbye to her. And over the seasons, the series has filled in some of the blanks regarding the mystery surrounding Rebecca's death, including her Alzheimer's diagnosis. So the show will begin with Jack and end with Rebecca.
In the final episodes of This Is Us, Kevin, Kate, and Randall have reflected on the wonderful mother that Rebecca was. And as a whole, the last season has been a tribute to Rebecca and all that she's done for her family. Fans will remember her legacy for years, and Mandy Moore certainly will hold her close to her heart forever.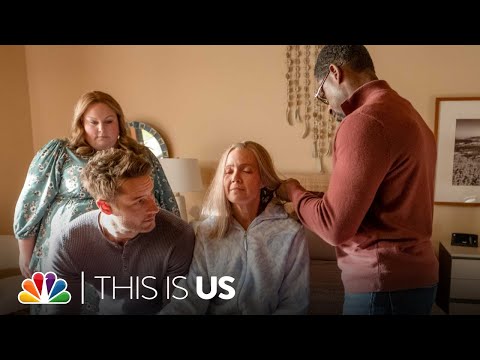 The 'This Is Us' actor admits that Rebecca inspires her as a parent
The This Is Us Twitter page posted a video titled "Mandy Moore's Love Letter to Rebecca" before the series finale. Moore praises her character in the clip and explains what Rebecca means to her.
"I have unending gratitude for Rebecca Pearson," the actor shared. "What a gift to play this woman from her early adulthood to the very end of her life. She's just set this gold standard for the kind of parent I hope I can be."
Moore added, "I think back to the first time Jack and Rebecca walked through this house when it was just a shell of what it would eventually become. So much has happened in this house. Obviously, I think of the fire, and I cry. Every single character on our show is really trying their level best to be the best version of themselves. Rebecca is really no exception. Even though she is human and she is fallible, I think Rebecca is … she's doing it right."
Mandy Moore became a mother in 2021 when she gave birth to her son, Gus. So playing Rebecca Pearson, who has proven to be an absolute force as a parent, undoubtedly inspired Moore in her real life.
'This Is Us' executive producer praises Mandy Moore's performance in the final season
While speaking with Entertainment Weekly, executive producer Elizabeth Berger discussed accurately portraying Alzheimer's onscreen and how prepared Mandy Moore was for Rebecca's storyline in This Is Us Season 6 Episode 16.
"Mandy was so committed to telling a truthful interpretation of someone going through this disease at this stage," Berger revealed. "Honestly, we didn't have to have many conversations with her because she was doing her research. She was consulting with doctors. She was reading nonstop. We were just all on the same page because we were all doing that research about what this stage looked like."
The executive producer continued, "Then, just through sheer talent and hard work, she really brought it to life. We think it's such a brilliant performance. She does this thing that blows me away where you aren't totally sure at any moment who she's recognizing and whether or not she's fully understanding who even her children are in each scene."
"But she does it in a way that feels so authentic and effortless that you just truly believe that that is the mental state that she's navigating as she walks from room to room in this episode," Berger concluded.
Many fans and This Is Us cast and crew members are calling for the Emmys to nominate Mandy Moore for her work as Rebecca in the final season. And taking into account the 16 aired episodes, we can't help but agree that she deserves all of the awards.
This Is Us airs Tuesdays at 9 p.m. ET on NBC.
Source: Read Full Article